Blog
Succeeding in the Singapore, Indonesia, And Malaysia Markets Whilst Leveraging Technology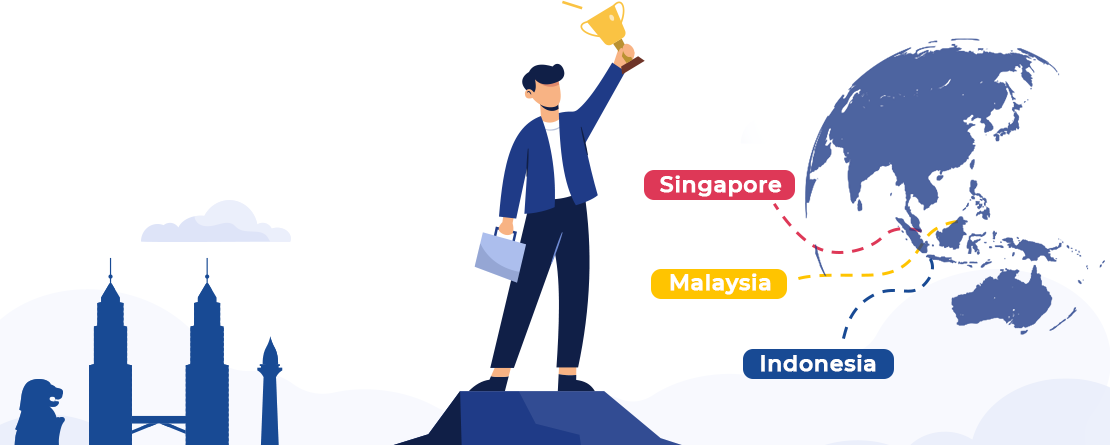 Livingeshan Krishnan
PointStar Consulting is holding a series of webinars on the benefits of choosing Southeast Asia as the destination for the expansion of your business.
The series of webinars, titled "Expanding Your Business to Asia? Singapore, Malaysia, Indonesia", feature industry experts, and successful business owners in the region who share their expertise and insights of doing business in different countries in Asia.
The first series – focusing on the Singapore, Malaysia, and Indonesia markets – kicked off on March 16th, 2022, and it was conducted in three separate languages, Japanese, Mandarin and English.
This was subsequently followed by fireside chat where Vice President and GM of Oracle NetSuite (Asean), Peter Quek, CEO of PointStar Consulting, Michelle Alphonso, Regional Head of ERP Sales of PointStar Consulting, William Chaylis, and MD of Shearwater Group, Baptiste Bassot discussed and shared the processes involved in doing business in Singapore, Malaysia and Indonesia.
This webinar was attended by participants across Asia, including those from Thailand, China, Japan, South Korea, and Taiwan.
In this article, we look at the conditions which make Asean nations conducive to foreign investment, and how three nations in particular, Singapore, Malaysia and Indonesia are benefitting from years of business-friendly policies and political stability to stand ahead of the queue.
Why Singapore, Malaysia, Indonesia?
Political stability has long served as the bedrock of the Asean society. Home to about 661 million inhabitants, Asean would be the fifth biggest economy in the world were it a nation on its own.
Prosperity has enabled governments in this region to focus on growing their respective economies through the enactment of business-friendly policies. This is reflected in a McKinsey study which revealed that Asean countries make up almost half of the world's fastest growing economies.
What's even more impressive is the fact that, Singapore, Malaysia, and Indonesia, have been categorised as "outperformers", a title given to countries who record 3.5% annual per capita GDP growth over 50 years.
Although the Covid-19 pandemic threatened to derail economies around the world, strong building blocks ensured Asean nations were able to weather the storm and get back on their feets at the quickest moment possible.
Singapore
Singapore has consistently ranked in the top two of the World Bank's Ease of Doing Business Index. Out of the 35 unicorns in the Asean region, an astonishing 15 are from Singapore.
"Singapore is a very small country with a small population and limited resources. That is why there is a need to attract foreign companies to open up here. The government has invested heavily to make it as easy as possible for foreign companies to set up here," said Michelle in her opening address at the webinar.
This island nation is also a hotbed for talent, with a highly-educated, equally skilled, and cosmopolitan workforce. Attributing statistical sources such as the World Economic Forum, the Singapore Economic Development Board (EDB) places the city state in pole position in Asia and 10th in the world for talent competitiveness, second most attractive destination for global talent, and second in the world for startup talent.
Singapore also has business-friendly tax policies where the corporate tax rate on taxable incomes is 17%, with zero taxes on capital gains. In addition to this, income sourced from outside the nation is tax exempt if that income has already been subjected to tax in a country with a headline tax rate of at least 15%.
"The process of setting up a company in Singapore is fully digitalised, and the entire application can be done online assuming you have all the necessary documents with you. The turnaround time to get approval can be as quick as 24 hours, and you will get the ACRA (Accounting And Corporate Regulatory Authority) certificate which is the document that indicates you can commence operations in Singapore," added Michelle.
Malaysia
Malaysia ranks 12th among 190 other countries in the World Bank's latest index on Ease of Doing Business which was released in 2020. Meanwhile, Mercer's 2020 Cost of Living Survey indicates that Malaysia has the lowest cost of living in the Asean region.
PWC's Doing business in Malaysia 2021 acknowledges Malaysia "as a springboard for regional expansion into the Association of Southeast Asian Nations (Asean) in view of its strategic, central location and multilingual 'Truly Asia' mix of Malay, Chinese and Indian populace".
The barrier to entry into the Malaysia market is expected to be lowered as the nation implements the Regional Comprehensive Economic Partnership (RCEP) agreement on March 18th, 2022.
The PwC report further notes that there are more than 5000 foreign companies from 50 countries in Malaysia with a cumulative investment of US$175 billion as of December 2020. The country also follows the legal system of the United Kingdom, helping ring-fence foreign businesses from legal threats.
There may be extra steps or layers of bureaucracy when setting up a business, but once you navigate through that, then often it is smooth sailing.
To supplement all these, the workforce of Malaysia is one that is young and consists of its three main races Malays, Chinese, and Indians who are fluent in the national language which is Malay, English and their respective mother tongues.
"Malaysians are generally multilingual. While the official language is Bahasa Melayu, you will find that large swathes of the population speak relatively good English, in addition to speaking Mandarin and Tamil as well. This is great because being multilingual is always beneficial," said Michelle.
Indonesia
A sprawling archipelago with a population of 273 million, Indonesia is one of the rising economic powers of the world and is expected to be the world's seventh largest economy by 2030. Indonesia has undergone several liberasations of the economy in the last 25 years and has a list of free trade agreements that positions it as a potential economic force in Asia.
As part of its Asean membership, Indonesia is able to trade with its fellow regional members, Thailand, Malaysia, Vietnam, Myanmar, Cambodia, Laos, Brunei and the Philippines with zero tax. Besides this, Indonesia also has preferential trade agreements with Australia, China, Hong Kong, India, Japan, Korea and New Zealand, as well as being a signatory to the Regional Comprehensive Economic Partnership (RCEP).
To fuel the growth of its economy, successive Indonesian administrations have enacted policies that reduce bureaucracy and accelerate the process of doing business in the nation. A prime example of this would be the Investor KITAS programme which lowers barriers to growth by removing the annual fee of US$1,200 for the application of a work permit to qualify for investment.
"Business entities in Indonesia can be 100% foreign owned. In the past you had to go through different hoops and loops to process your documents, and that used to take between two to three months," said William.
"Nowadays it is a lot more convenient as there is a one-stop services portal that companies can use to apply for permits, be it for administrative reasons or the creation of companies itself. Most documents will be in Bahasa Indonesia as it is the official language of Indonesia, however, with the range of translation services available these days, this really is not an issue anymore."
Challenges To Your International Expansion Plans and How To Overcome It
Geopolitical issues, and a nation's policy towards foreign business is just the beginning of the set of challenges that businesses face when they expand overseas.
The quantum leap in technology has created an increasingly disruptive business environment. If anything, the Covid-19 pandemic, the recent Russian invasion of Ukraine and the subsequent war that has erupted has only served to highlight the importance of being agile.
On top of remaining vigilant and responding swiftly to changing consumer demands, businesses need to equip themselves with cutting edge cloud computing technologies in order to navigate choppy waters and negotiate the volatile path that is the present business world.
Below we look at the challenges that companies face when they expand and how cloud solutions can ensure they stay ahead of their competitors:
Scalability and Agility To Respond to Changing Consumer and Market Needs
Cloud solutions are highly scalable, in that businesses can choose to expand the breadth and depth of their solutions in line with the growth of their companies.
"Cloud solutions can be easily scaled up and down in support of growth and business cycles. This is because cloud solutions are purchased based on the number of users, the complexity of transactions and businesses do not get locked down by fixed cost and perpetual licence," said Quek in his keynote speech at the webinar.
Businesses in the digital age also face a multitude of challenges from various different directions. A pandemic like Covid-19 can upend your entire business model and render it obsolete if you cling on to legacy systems.
As ascertained in a Shopify report, the Covid-19 pandemic turbo-charged the E-commerce sector where "10 years of e-commerce growth happened in just 90 days".
In an environment where digital is the currency of operations, businesses need to take the leap and undertake digital transformation efforts that will not just deliver growth and operational efficiency, but agility that will ensure they are well-positioned to respond quickly to changing customer needs and market demands.
Greater Visibility Through Data and Financial Consolidation Across Different Countries
In the digital age, businesses often use different best-in-class solutions to address specific needs. While this is a commendable approach towards ensuring success, it is worth noting that data from disparate sources mean very little on their own.
Solutions such as cloud ERP systems enable you to integrate data from disparate sources and provide you with unprecedented visibility of your business. If you are a company with a presence in different countries, cloud ERPs are especially helpful as they help consolidate your finances. The cloud architecture of these solutions also enables you to get a real-time view of your business processes across subsidiaries and countries.
Adhering To Local Regulatory Compliance and Requirements
One of the complexities that comes with expanding to overseas markets is the need to adhere to different regulatory requirements across different countries. An error, or mistake in reporting often results in costly punishments and reputational damage.
The need for global companies to equip themselves with cloud solutions that can be adjusted to adhere to different regulatory requirements is pressing. Cloud ERP systems such as Oracle NetSuite have modules specifically designed to cater to these needs. This system also provides services in over 100 different languages.
Concerns Over Data Security
As your company grows, and your reach widens, the greater the security threats you face. News reports of data breaches are frequent and often the result of the reluctance of companies to move on from legacy systems which can be easily hacked.
Cloud solutions have multiple layers of security that allows you to clearly define who and what can access company or customer data. Cloud solutions also feature multi factor authentication which ring-fences your data from external breaches.
Automation of Key Business Processes
For businesses like unicorns or those involved in high-growth businesses such as fintech, there really is no excuse for processes such as bank reconciliations to be handled manually. Processes like these are exposed to human errors due to manual entry of data.
When you equip your business with cloud solutions such as an ERP system, you will be able to automate manual processes that can often hinder your business due to the amount of time and resources required. You avoid data duplication, and can spend valuable time growing your business.
At the conclusion of the webinar, most participants expressed their interest in attending the next webinar in the "Going Global" series, which will look at the South Korea and Japan markets.
Watch The Full Webinar Here