Blog
PointStar Consulting Menyabet Penghargaan Asia Break Out Partner Of The Year dari Workato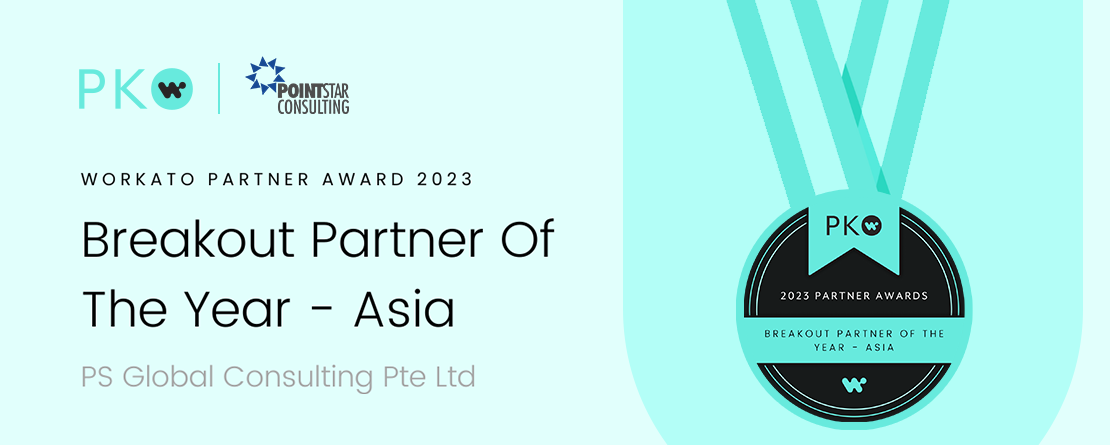 fida
Pada Kick-Off Partner Workato hari ini, PointStar Consulting dianugerahi penghargaan sebagai Workato Asia Break Out Partner Of The Year. Penghargaan ini adalah sebuah pencapaian yang diterima oleh PointStar Consulting sebagai konsultan transformasi digital finansial terkemuka di Asia.
"PointStar Consulting merupakan pelopor konsultan transformasi digital finansial terkemuka di Asia, dengan pengalaman lebih dari 15 tahun dalam menyediakan serangkaian solusi finansial cloud.
"Mereka telah membantu bisnis dalam mengintegrasikan berbagai solusi dan otomatisasi alur kerja, di seluruh organisasi melalui Workato," kata James Chin, Direktur Mitra dan Aliansi Workato untuk Asia.
James juga memberikan penghargaan kepada PointStar Consulting atas usahanya yang tanpa henti, dalam melengkapi bisnis dengan solusi cloud paling canggih. Hal ini memungkinkan mereka untuk berkembang dalam lingkungan bisnis yang semakin disruptif, tidak stabil, dan kompetitif.
"Di FY23, partner PointStar Consulting ini mendirikan Workato BO dan berinvestasi dalam meningkatkan tim marketing, BDR, sales, dan teknologi mereka, untuk fokus pada aktivitas Workato yang dapat meningkatkan sales pipeline," tambah James.
James juga berpendapat bahwa PointStar Consulting terus memberikan contoh dalam menciptakan daya tarik yang besar, untuk mendapatkan kepercayaan dari pelanggan digital native dan high-tech.