Blog
How unicorns like PropertyGuru leverage technology to stay agile and grow

Livingeshan Krishnan
Proptech companies facilitate real estate transactions in the form of buying, selling, or renting properties online through websites and smartphone applications. In Singapore which has the third highest number of proptech companies in Asia Pacific, PropertyGuru rules the roost as the number one digital property marketplace both in the island nation and also the wider Southeast Asia region.
With more than 2.8 million monthly property listings, serving 37 million monthly property seekers, and with 49,000 active property agents across Southeast Asia, PropertyGuru is well on its way to expanding beyond real estate. It has already signalled its intention to make its foray into the fintech industry after announcing a merger with Bridgetown 2 Holdings in 2021.
Underpinning much of the success of digitally-native businesses such as PropertyGuru has been the commitment to leverage the best-in-class cloud solutions. Having used MYOB, Salesforce.com and disparate spreadsheets, there came a point when PropertyGuru realised it needed a robust cloud solution that would gear it up for rapid growth. The aforementioned legacy systems wouldn't cut it anymore.
PropertyGuru implemented the Oracle NetSuite cloud enterprise resource planning (ERP) system in 2012 and reaped instant dividends as its revenues tripled. Rautiainen has credited Oracle NetSuite's ability to provide real-time insights for bringing some much needed predictability and consistency to its finance team.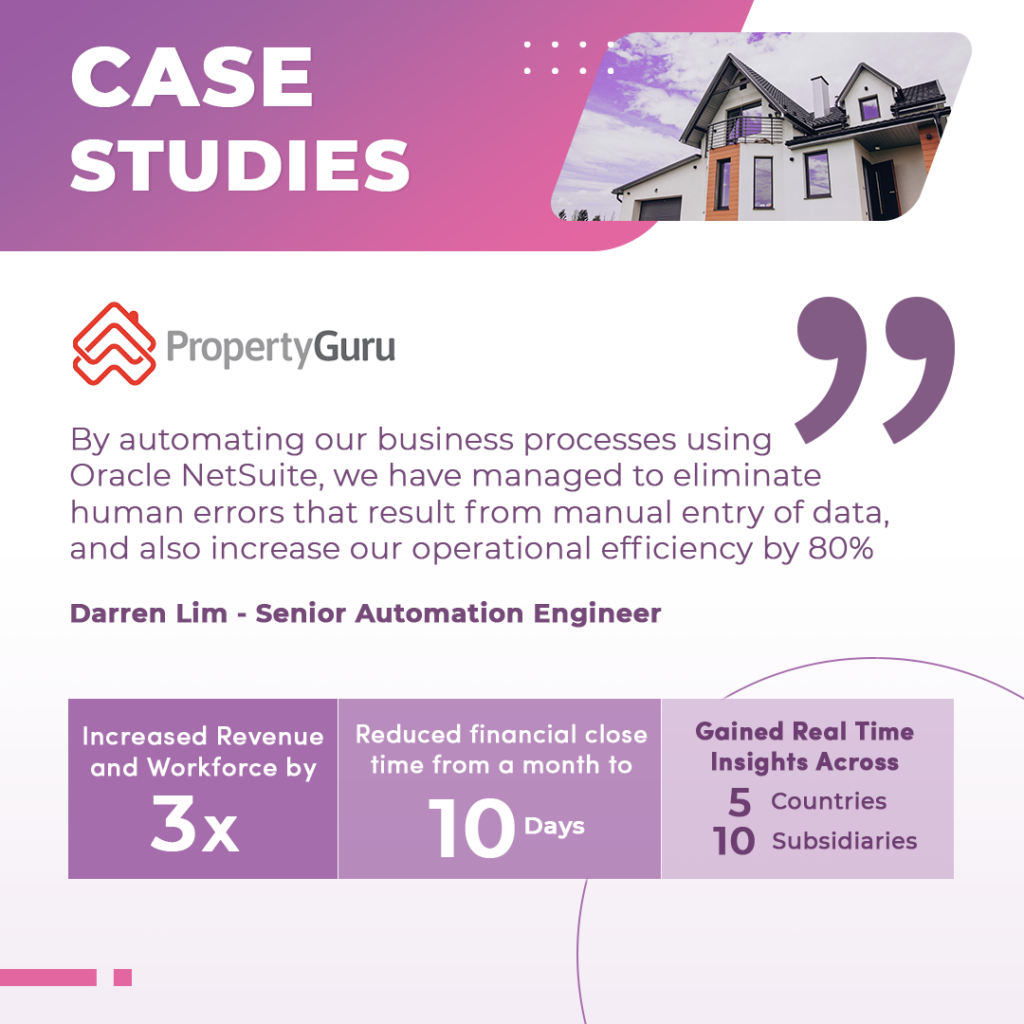 Below are just some of the benefits that implementing a cloud solution such as the Oracle NetSuite ERP system can bring to your business, as attested to by PropertyGuru:
Automation of Financial Reconciliation Process
For businesses in the digital age, the sheer volume of transactions can render moot the manual management of accounting and financial processes such as bank reconciliations. Manual entry of these transactions are open to human errors and data duplication. By automating these key processes, Oracle NetSuite allows your finance professionals to focus on doing things that matter, such as growing the business. The reduction of reconciliation time from over a month to an average of 10 days is staggering.
Revenue Recognition
Businesses like PropertyGuru face a complex revenue recognition process as there are a variety of property listings with different sales strategies cutting across different countries. The Oracle NetSuite ERP provides a customisable and flexible option that allows you to streamline this process and guarantee revenue transparency and reporting consistency.
Visibility
In a highly disruptive business environment that is also becoming increasingly volatile due to the twin threat of the pandemic and the Ukraine war, businesses need to have their fingers on the pulse and have visibility of their company's financial processes and customers. PropertyGuru reported that it achieved real-time, global financial consolidation, with a 360-degree view of its customers, financials, and currencies across different countries. Having your finger on the pulse with a system that provides unprecedented visibility also helps you unlock key insights that can aid strategic decision-making.
Scalability
One of the greatest leaps that modern cloud technology has made compared to its legacy counterparts is its ability to afford businesses scalability. The virtue of a cloud architecture means businesses will not be stuck with one system that allows little flexibility for changes or additions. True-cloud ERP systems such as Oracle NetSuite provide businesses with the agility to expand, and to do it quickly.
Compliance
Hardly a day goes by without news of regulatory authorities around the world introducing new compliance rules for businesses in the digital world to follow. A true-cloud system like Oracle NetSuite is designed precisely to ensure businesses do not just adhere to existing regulations, but also quickly change tack when new regulations are introduced or old ones tweaked.
Oracle NetSuite
Find out how the Oracle NetSuite cloud ERP system has helped hundreds of digitally-native businesses automate key business processes, achieve operation efficiencies, and grow.