Blog
Benefits for businesses through enterprise applications integration (EAI)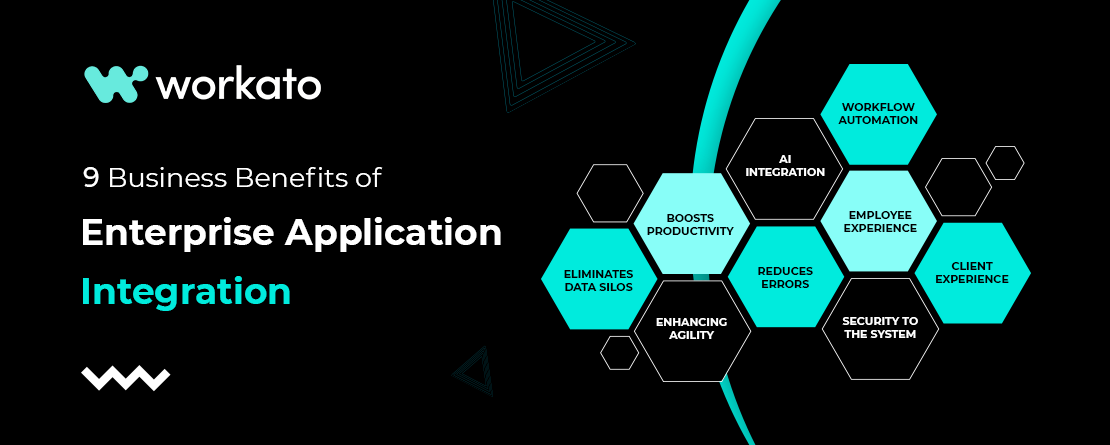 Pinploy Poonkham
Understanding Enterprise Application Integration
Enterprise application integration (EAI) enables high-growth businesses to integrate their stack of different software solutions for different pain points and realise operational efficiencies.
EAI plays a critical role in connecting disparate solutions and removing data silos, enabling organisations to seamlessly manage their business processes.
The principal goal of EAI is to establish a unified environment where these applications harmoniously collaborate. This integration strives to streamline operational workflows, enhance data fluidity, and bolster communication among disparate systems. According to research by Mordor Intelligence, EAI market share is estimated to grow over 13.21 billion USD in 2023, and is expected to reach 27.33 billion USD by 2028, growing at a CAGR of 15.65% during the forecast period (2023-2028).
In this article, we have highlighted 9 benefits that EAI can bring to your business, which include:
Eliminates Data Silos
EAI helps businesses break down and eliminate data silos in day-to-day working processes. This will help ensure employees get an integrated view of data and make informed decisions.
Boosts Productivity within the workplace
Eliminating menial, repetitive tasks enables employees to focus on contributing in areas that are key for business growth.
Reduces Errors
Eliminate errors that happen from manual data entry and avoid costly mistakes. EAI minimises errors by reducing manual data input
Enable Workflow Automation
With applications in sync, integration paves the way for the automation of cross-application business processes and enhances efficiency.
Enhance Employee Experience (EX)
EAI lets employees concentrate on more meaningful tasks, fostering engagement and satisfaction.
Improves Client Experience
Customer service can be offered in a more efficient way with automated tasks out of the way, allowing employees to focus on providing a better client experience.
Enhancing Agility
By virtue of its architecture EAI enables businesses to make changes where necessary, add functions when needed, and respond swiftly to changing consumer demands.
AI Integration
EAI platforms allow organisations to connect with artificial intelligence (AI) and machine learning (ML) models, leveraging the latest developments.
Provides Security to the system
EAI platforms offer robust governance and security controls to protect sensitive data.
Unlock a Range of EAI Capabilities and Beyond with Workato
Workato, an industry-leading enterprise automation platform, offers the advantages of the low-code / no-code (LCNC) model to integrate your stack and enable automation in scale.
For instance, the Workbot®, a personalised platform bot helps employees keep track of their workflow. This allows employees to initiate and engage with various automation tools through applications such as Slack or Microsoft Teams.
Workato also offers Workflow App which assists the organisation in constructing interactive and integrated workflow applications, as well as an Embedded Platform that empowers organisations to utilise Workato for developing integrations with their proprietary products, among other features.
Final Thoughts
EAI has emerged as a vital instrument for enhancing an organisation's operational efficiency. It successfully manages and integrates various software applications, fostering a cohesive ecosystem across cloud and on-premises platforms. Moreover, Workato's robust enterprise automation capabilities empower organisations to maintain a competitive edge, ensuring they stay ahead of their rivals.