Blog
Integration and Automation: Bridging the Gap Between Independently-Built Systems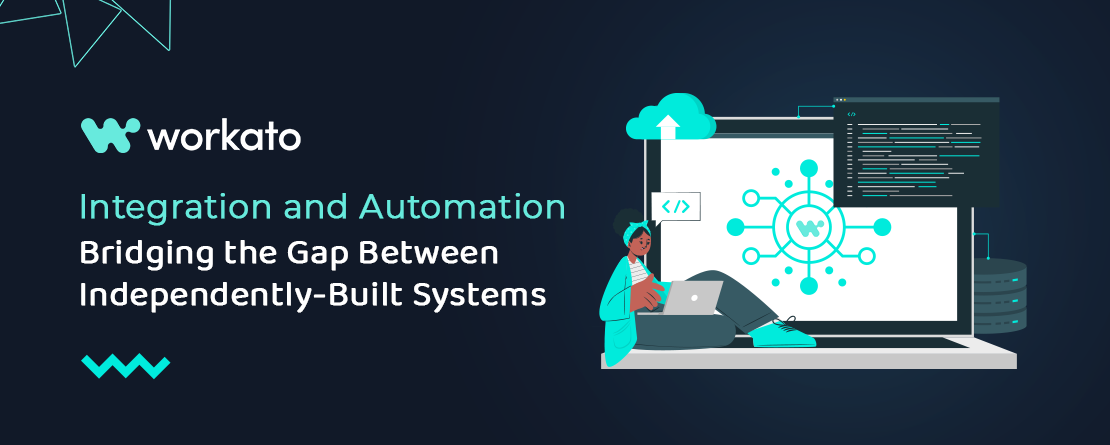 Livingeshan Krishnan
Automation is a buzzword not just in the IT industry, but in many other sectors as well. As more organisations initiate automation efforts, a growing number of companies that provide automation services have arrived at the scene.
Integrating disparate systems within an organisation can be a company's first foray into digital transformation. In some instances, automation may be part of the digital transformation initiative of a business.
So the question now is, are integration and automation two separate disciplines?
Below we will discuss what integration and automation are, how they are related to each other and most importantly, how they can help improve your business.
Automation: What is it and How Automation Changes the Way You Work
Merriam-Webster defines automation as "the technique of making an apparatus, a process, or a system operate automatically".
Once the definition of automation has been laid out, it is clear that most applications organisations use can be considered "automation tools". For example, a finance application provides a collection of functionalities which are aimed at automating tasks and business processes for the finance department. This also includes tasks in the area like general ledger, accounts receivable, accounts payable, and financial close.
In that sense, it could be argued that organisations have been automating for a long time since most of the companies have been implementing software-as-a-service (SaaS) solutions to address their business needs.
However, these traditional automation methods are usually confined to specific departments, such as finance, HR, sales, procurement, supply chain, and manufacturing. This means departments still operate in silos with data from disparate sources.
For a considerable period, companies have used techniques like an enterprise service bus (ESB) or extract, transform, and load (ETL) to synchronise the data they have gathered from the different applications they have used. This approach is a rudimentary version of automating processes involving multiple departments.
Although software makers have tried to overcome these through comprehensive suites like cloud enterprise resource planning (ERP) or customer relationship management (CRM) systems, implementing them the way you like has proved challenging, costly, and time-consuming.
SaaS applications are also limited when it comes to making room for updates due to high costs and complex change management. The SaaS business model is akin to a one size fits all approach.
Each suite can only meet some of the needs of an organisation. Organisations often acquire or develop "satellite" applications to fill the gaps. These and the limited flexibility of mega-suites have led to a new end-to-end automation model
The end-to-end automation model focuses on efficiently automating complex processes involving multiple functions by orchestrating various systems' capabilities. The organisation also has to prioritise the ability to adapt and adjust these processes swiftly and efficiently in response to emerging requirements. Achieving quick time to value and business agility is crucial, highlighting the significance of employing low-code orchestration tools in the automation layer.
What is "integration" and what are the relations it has with "automation"?
End-to-end automation entails the collaboration of independently designed systems, including software applications and machines, to automate a process by eliminating manual tasks. This will eliminate the need for employees to enter all the data themselves and risk making mistakes from the task.
Integration technology enables collaboration between independently designed systems by acting as a bridge that facilitates communication across different protocols. It validates, maps, and transforms data as it moves between systems. Moreover, integration technology has the ability to route messages and data to their intended destinations.
For example, purchase orders below $100,000 are directed to the order fulfillment system, while those exceeding the threshold are sent to an application where a designated human approver can review and decide on them.
The key takeaway is that integration functionalities like protocol bridging, routing, data validation, mapping, and transformation are vital when automating processes involving multiple independently designed systems.
Enterprise automation strategy has great potential when it comes reducing costs, increasing efficiency and effectiveness, and business agility. However, enterprise automation also offers other great benefits to the organisation:
Clear set of goals and objectives
Different strategies may have conflicting objectives, such as cost reduction in automation and business agility in integration, which can cause friction and resource conflicts. In contrast, a unified strategy is guided by a shared set of well-defined goals, such as enhancing efficiency and promoting business agility.
Synergies
Organisations can use their integration technologies and skills that they have acquired to support automation systems. Which helps the organisation to save money and time.
Optimisations
When the organisation tries to address new challenges, they can use the right technologies and skills that come with automation strategies to tackle the challenges.
Addressing complex scenarios
In such cases, a combination of automation and integration technologies (such as RPA, iPaaS, and MFT) supported by your enterprise automation strategy may be necessary. However, managing this becomes significantly more challenging if there are separate responsibilities for these two disciplines.
Views on possible business and technology issues
Having an enterprise automation strategy, along with an enterprise automation team responsible for its implementation, provides your organisation with a comprehensive understanding of the challenges at hand and the corresponding solutions. On the other hand, having separate strategies and support teams leads to fragmented and incomplete perspectives, making the planning, management, monitoring, and governance of integration and automation initiatives significantly more difficult.
Final Thoughts
Aligning integration and automation strategies can pose challenges, particularly in organisations where different units have adopted separate approaches. Normally, the responsibility for the integration strategy lies within the IT domain, while the automation strategy may be managed by a business team, such as finance.
Consequently, separate support teams, often referred to as "centers of excellence" (CoEs), are typically established. To develop an enterprise automation strategy, it is recommended you gradually integrate the integration and automation CoEs into a unified enterprise automation team. This consolidation facilitates improved coordination and implementation of automation initiatives at an enterprise-wide level.
About Workato
The integration-as-a-platform (iPaaS) field is one that is crowded. There are no shortages of iPaaS providers giving businesses easy integration capabilities. However, very few who are able to initiate integration, while enabling end-to-end automation on an enterprise level.
Workato is an industry-leading low-code / no-code (LCNC) stack integration and workflow automation provider. Its superiority is underlined by its recognition as the leader in Gartner's Magic Quadrant for iPaaS providers for five consecutive years.