Blog
Streamlining Procure-to-Pay with Workato: Unlocking Efficiency and Growth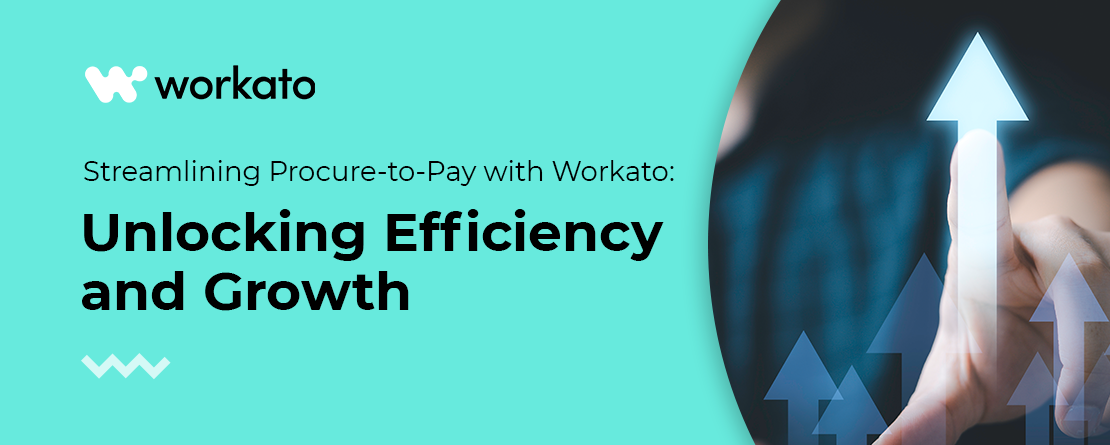 fida
In business operations, efficient procurement and seamless payment processes drive success. Procure-to-pay (P2P) is a comprehensive business workflow encompassing the entire procurement process, from requisitioning and sourcing to purchasing and payment.
An effective P2P process ensures the timely acquisition of goods and services while maintaining control over expenditures. In this article, we'll explore the concept of procure-to-pay and how Workato, a powerful automation platform, can revolutionise P2P processes, enabling businesses to thrive in the ever-evolving marketplace.
What is Procure-to-Pay
Procure-to-pay is an end-to-end process that begins with identifying a need within an organisation and concludes with the payment to the vendor or supplier. It involves a series of interconnected steps, including requisitioning, supplier selection, purchase order creation, receipt of goods or services, invoicing, and final payment.
The P2P process seeks to streamline and automate these stages, reducing manual efforts, enhancing visibility, and optimising cost controls.
The Challenges in Traditional Procure-to-Pay
Traditional P2P processes often involve many disconnected systems and manual interventions, leading to inefficiencies, data discrepancies, and delayed payments.
These challenges can impede the growth and profitability of businesses, especially in today's fast-paced, digitally-driven world.
A Paystream 2022 Procurement Insights report indicated that "80% of organisations still use manual or semi-digital tools to manage their P2P cycle".
How Workato Resolves Your Procure-to-Pay Woes
Workato, an intelligent automation platform, presents a game-changing solution for businesses seeking to transform their P2P processes. By connecting applications, automating workflows, and orchestrating complex tasks, Workato enables seamless data flow and real-time collaboration, resolving traditional P2P challenges with remarkable ease.
Unified Integration
Workato's powerful integration capabilities facilitate seamless connections between various enterprise systems, such as ERP, CRM, e-commerce platforms, and payment gateways. This integration eliminates data silos and ensures that information flows cohesively throughout the P2P process, from requisition to payment.
Workflow Automation
With Workato, businesses can design and implement automated workflows that streamline P2P processes. For instance, when a purchase requisition is raised, Workato can automatically trigger the creation of a purchase order and notify relevant stakeholders. Such workflow automation reduces manual errors, accelerates response times, and boosts productivity.
Real-Time Data Synchronisation
Workato's real-time data synchronisation capabilities provide a unified view of all P2P activities. This visibility enables businesses to track the status of orders, monitor inventory levels, and manage cash flows effectively. With up-to-date data, organisations can make informed decisions, enhancing their competitive advantage.
Vendor Management
Efficient vendor management is crucial for a successful P2P process. Workato enables businesses to create and maintain vendor profiles, manage contracts, and monitor performance metrics. By automating these tasks, companies can build strong vendor relationships and ensure timely deliveries of goods and services.
Invoice Processing
Workato's automation prowess extends to invoice processing, which is often laborious and error-prone. Businesses can expedite the payment cycle by automating invoice validation, approval, and payment, reducing late payment penalties and strengthening supplier relationships.
Compliance and Security
Workato prioritises data security and compliance. The platform ensures that sensitive financial information is encrypted and securely transferred between systems, minimising the risk of data breaches and regulatory non-compliance.
In a Nutshell
In a rapidly evolving business landscape, efficient and agile P2P processes are paramount for sustained growth and profitability. Workato empowers businesses to optimise their procure-to-pay workflows, eliminating inefficiencies, and unlocking a new realm of productivity.
By automating tasks, unifying data, and providing real-time visibility, Workato enables organisations to focus on strategic initiatives and drive business success in the modern marketplace.