Blog
Workato's Position Atop of Gartner's Magic Quadrant and Why It Matters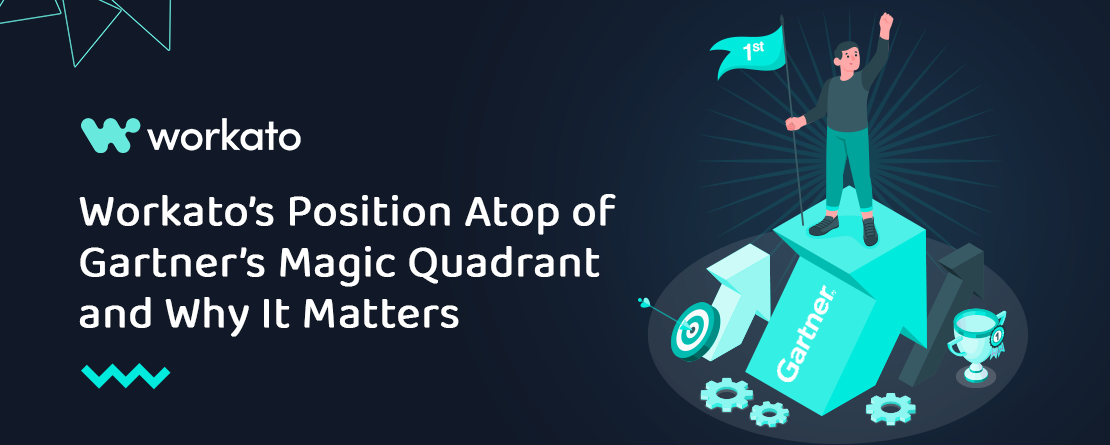 Donna Ambarita
Benjamin Franklin once said death and taxes are the only certainties in life. More than two centuries after his death, we'd like to add a third certainty: Workato being named the best in the Integration Platform as a Service (iPaaS) market.
Being recognised for the fifth consecutive time as the Leader in the 2023 Gartner® Magic Quadrant™ for Integration Platform as a Service (iPaaS) serves as a ringing endorsement for Workato's industry-leading solution that is delivered with top-notch customer service.
Gartner, one of the major technological research and consulting firms in the world assessed 16 vendors in the iPaaS world "to help software engineering leaders select iPaaS solutions that align with their tactical needs and strategic direction".
The iPaaS market is one that is highly competitive with a host of solutions providers provisioning integration services to thousands of enterprises. Gartner's Magic Quadrant is determined by four main criteria, namely purpose, capabilities, delivery model, and user types. All iPaaS vendors evaluated for Garner's Magic Quadrant operate on the cloud.
Workato emerged top in customer experience with a stunning 4.9 out of 5 score in Gartner's Peer Insights, with 99% of peers recommending Workato. Partners cited Workato's ease of use and high quality of support as an embodiment of a company head and shoulders above its contemporaries in the iPaaS segment.
In a highly volatile, and ever-changing business environment, organisations need products that deliver swift solutions to new problems. On that count, Workato topped the charts with 450 releases in the past 12 months focused on build and operational experience, AI/ML, and security.
"Workato was one of the first iPaaS vendors to respond to the coalescing automation and integration use cases from business technologists. Workato prospects seeking democratised access to integration and automation technologies can be assured that Workato is adapting its platform to meet these demands," reads Gartner's 2023 Magic Quadrant report.
What really cements Workato's position atop the Gartner Magic Quadrant is the fact that it does not just offer stack integration, but also enables workflow automation on the same platform. This is a recognition of Workato's pioneer status in offering dual solutions on a single platform, while also serving as a key differentiator that elevates it above the chasing pack.
"We founded Workato with the mission to rethink integration. This year's Magic Quadrant for iPaaS highlights a significant change in the market's future and we are honoured to be recognised as a Leader," says Vijay Tella, Co-founder, and CEO of Workato.
"Automation and integration are one of the top priorities for C-Suite, with a growing backlog of these projects across the enterprise. Workato's breadth of features paired with strong security and governance capabilities enable organizations of any size to democratize complex projects enabling both IT and business technologist teams to drive business outcomes at scale across their enterprise."