Blog
A Cloud ERP System, Its Modules, and How It Helps Your Business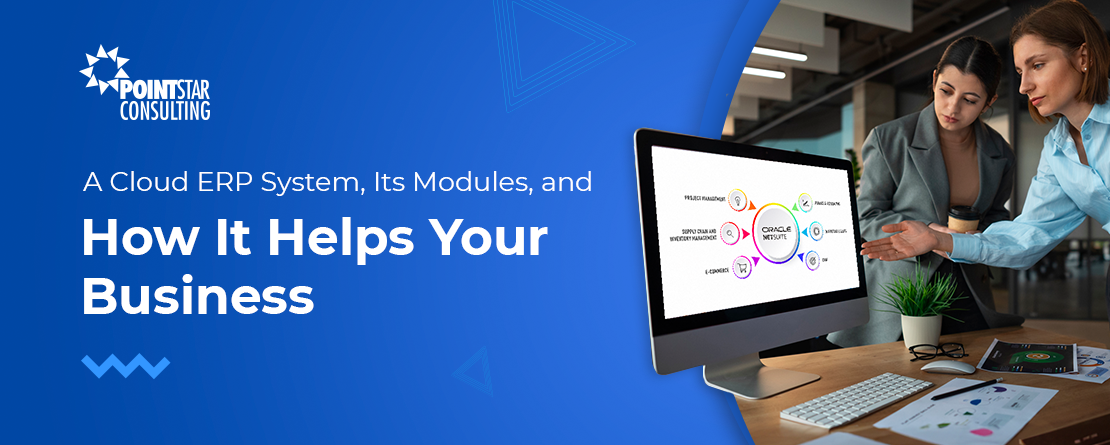 fida
In today's rapidly evolving business landscape, cloud ERP (Enterprise Resource Planning) systems play a crucial role in enabling businesses to achieve operational efficiencies. This is achieved by consolidating key business processes into a unified platform, offering real-time insights and seamless support for day-to-day workflows.
In this article, we will examine some of the main components of a cloud ERP system and how it contributes to increasing the efficiency of each business operation and helps businesses create a seamless working environment with better data management and closer collaboration between each department in the organisation.
Cloud ERP System Components: What are they?
A cloud ERP is a system comprising specialised applications, called 'modules', created to handle specific business functions. These modules form the building blocks of a centralised cloud ERP system database, which provides a comprehensive view of an organisation's data and processes.
By integrating these components into a single platform, a cloud ERP system helps eliminate the need for businesses to invest in a variety of separate software for each department, ensuring all the stakeholders are able to access the same information. Common cloud ERP components include accounting, financial management, human resources (HR), customer relationship management (CRM), procurement, and supply chain management (SCM).
Each of the mentioned components collects data and supports the processes of its respective business department. Subsequently, the cloud ERP system consolidates and centralises data from these modules, helping unify business data to enhance end-to-end coordination, ensuring organisation-wide efficiency and decision-making support.
All-in-one ERP systems provide a comprehensive suite of modules suitable for established businesses seeking a comprehensive solution. The modular cloud ERP software offers flexibility by allowing companies to select and combine relevant components based on their specific needs, operations, and challenges, with the option to scale over time. For example, a medium-sized e-commerce company might prioritise inventory and warehouse management, while a small service-based organisation might focus on CRM and project management modules.
Here are some of the components which a cloud ERP can help your business with:
Accounting and Financial Management
Cloud ERP offer accounting and financial solutions that enables businesses to centrally manage financial activities, tracking and analysing elements like accounts payable, accounts receivable, budgets, and forecasts. It integrates with other modules, providing accurate organisation-wide financial information for informed decision-making. Automating billing, invoicing, and financial reporting reduces errors and frees up employees for other tasks. Financial planning teams benefit from up-to-date data for essential reports and statements.
Human Resource (HR)
The HR component of a cloud ERP system streamlines workforce management, including recruitment, employee records, performance evaluation, and payroll processing. It enables businesses to transition from administrative tasks to strategic optimisation, leveraging employee data for engagement, productivity, and workforce planning.
Customer Relationship Management (CRM)
The CRM component of a cloud ERP system centralises customer and prospect information, enabling enhanced interactions, automated processes, and valuable insights. It integrates with other cloud ERP components and features like accounting, sales order management, and marketing. Real-time customer data aids sales and marketing teams in understanding behaviours and identifying areas for improvement.
Business Intelligence (BI)
The business intelligence (BI) component of a cloud ERP system simplifies data analysis, allowing businesses to track correlations and make informed decisions. It provides real-time insights and predictive models, automates data processing, and presents information in user-friendly dashboards. BI enhances organisational alignment, detects areas of concern, and informs marketing strategies for improved customer satisfaction and business growth.
Supply Chain Management (SCM)
The SCM component of a cloud ERP manages the entire supply chain process, from procurement to delivery. It tracks material movement, handles returns, and includes specialised components like procurement, manufacturing, logistics, inventory, warehouse, and order management. In a modular setup, businesses can activate relevant SCM components based on their specific needs, such as tracking vendors and managing purchase requests in a centralised system.
Manufacturing and Logistics Management
The manufacturing and logistics component of a cloud ERP system automates production planning, quality assurance, distribution, and fulfilment. It streamlines the creation of accurate bill of materials (BOM) and enables real-time tracking of changes with version control.
Inventory management
The inventory management component of an ERP system optimises inventory levels, reduces excess stock, and provides real-time data for better visibility and control. It enhances purchasing decisions, lowers costs, and prevents stockouts. Integration with financial, supplier, warehouse, and manufacturing data improves profitability. Automation of replenishment, cycle counts, and demand forecasts tightens controls and reduces errors.
Warehouse management
The warehouse management component of an ERP system optimises warehouse operations, reducing costs and improving order fulfilment. It streamlines organisation, storage, and movement of products, analysing data to identify inefficiencies and enhance processes. With improved goods tracking and packing, warehouse productivity increases, ensuring faster customer deliveries.