Blog
Efficiency Now: Workato's Way of Optimising Your Stack, and Driving Savings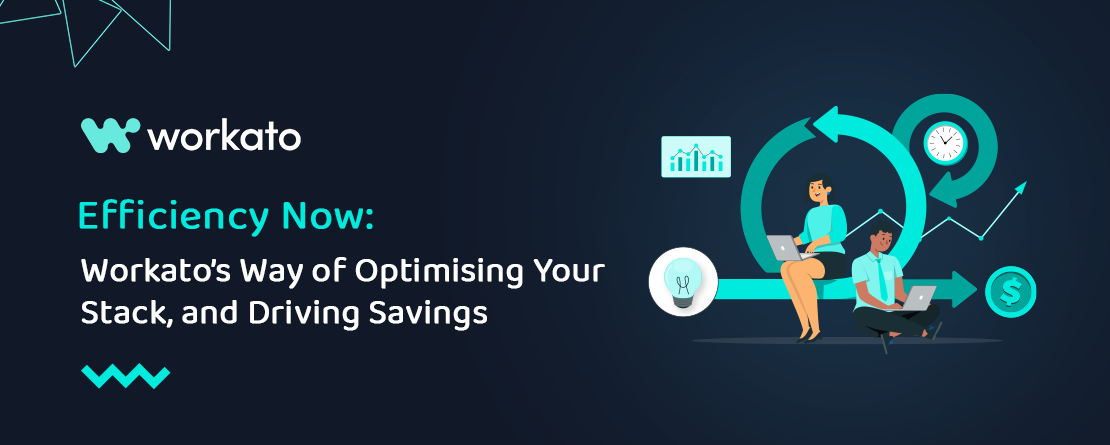 Livingeshan Krishnan
The process of driving efficiency now for businesses has been somewhat complicated by the proliferation of software-as-a-service (SaaS). SaaS has led organisations to have a complex web of applications to address their different pain points.
A study by Productiv titled "The State of SaaS Sprawl" reveals that, on average, businesses use 254 applications, with large enterprises using a staggering 364 different applications on average.
While there is no denying the multifarious benefits of using specialised solutions to address specific pain points, there also is a need to acknowledge the lack of efficiency, waste, and leakages that take place when these solutions are not integrated, operated manually, or used without the nod of IT departments.
It is reported that, on average, a company wastes more than US$135,000 on unused applications, with a staggering 38% of software licence expenditure fuelling solutions that are hardly used by businesses.
Shadow IT is a term used to describe solutions that employees of organisations use without the knowledge IT department. The aforementioned Productiv report also says that over 56% of applications that companies use fall under shadow IT. This makes for grim reading as any solution that is used without the knowledge of IT comes with severe security risks.
Cognisant of this, Workato, the undisputed leader in the integration-platfrom-as-a-service (IPaaS) market, recently initiated "Efficiency Now ", an accelerator that is aimed at helping businesses operate efficiently by reducing underutilised applications.
The "Efficiency Now" accelerator trains its sight on unused and underutilised applications within an organisation and can be deployed at scale swiftly.
Tech Stack Optimisation by Reducing Total Cost of Ownership (TCO)
Workato helps you collect data either through API or CSV exports and then analyse it before identifying underused or unused applications, and prescribing solutions for tech stack optimisation that will eventually reduce TCO.
Your organisation will also get bang for your buck by extracting maximum value from licensed solutions through automation of workflows.
And there is no limit to the number of workflow automation that you can initiate for the various solutions that form your stack. From human resource management to finance and accounting processes, the possibilities are endless.
With front-office automation, you will see immediate operational efficiencies and return on investment (ROI) by extracting the maximum from all the apps you use.
Workato In Numbers
Payless reduced operation costs by 40%, and consolidated 500+ technologies. The duration taken to build from scratch all website orders took just 10 days.
Hubspot's human resources team saved 100+ hours through the automation of the data validation process on new hires.
Acceleration of Slack's order-to-cash (O2C) cycle after automating 90% of their processes.
Account-based marketing platform Terminus saved 1000+ per year, in addition to gaining granular cash flow predictability, recouping US$30,000 a year just by replacing three middleware systems.
Final Thoughts
The SaaS landscape has given businesses the luxury of choosing the most on-point solutions for their pain points. Unfortunately, businesses rarely face solitary pain points. Because of the nature of high-growth businesses in the digital age, organisations face various pain points that necessitate the use of different best-in-class solutions for each pain point.
Eventually, the stack of a typical fast-growing digital-age business can come to resemble a mountain. The problem with this is that data ends up in silos, there is very little room for collaboration, processes are managed manually, a quarter of licensed applications are not even in use, and much of them are used without acknowledgement from IT.
This is clearly not a sustainable way to run a business. Racking up huge expenditures in the form of underutilised apps, needing a consolidated view of your business, manual processes that are highly vulnerable to human errors, and security issues arising from shadow IT are not matters to be taken lightly.
Efficiency Now is a game-changer that, when implemented, will bring in operational efficiencies, a significant rise in ROI, a rise in net present value and exceptional levels of improvement in productivity. As a business in the digital age, you cannot afford to be a bystander as your competitors equip themselves with the best in cutting-edge cloud technology. In short, NOW is the time for a decisive change!