Blog
Financial Close Management Challenges, and How BlackLine Can Help Overcome Them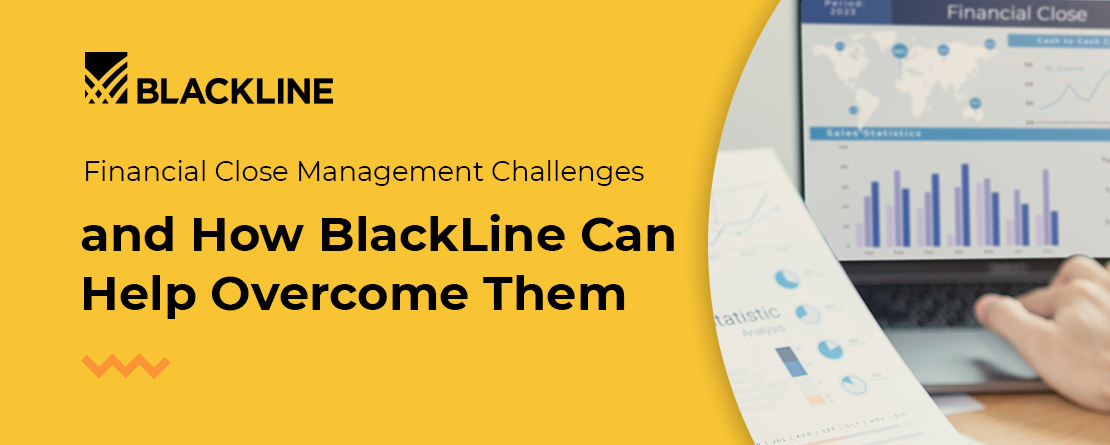 fida
Financial close management is an intricate process that can be challenging when managed manually. This is a process that involves various departments, teams, and stakeholders, making it prone to costly errors.
With so many variables at play, the financial close process can lead to bottlenecks in business processes and slow down the organisation in making important decisions. Below are some of the common challenges businesses face in financial close management.
Challenges in Financial Close Management: A common occurrence
Dependency on Manual Methods
Accounting departments face challenges due to manual accounting methods. Sticking to outdated practices simply because they have been done that way in the past is a major hindrance for finance teams. The adoption of financial transformation and intelligent automation has become a crucial factor in the success of leading organisations, setting them apart from their competitors.
According to a McKinsey research, organisations that are not ready to embrace 'Industry 4.0' are at risk of falling behind in an increasingly competitive landscape. Companies that have already started their digital transformation initiatives are able to grow in a bigger and bolder way, while others might be struggling to adapt to the new way of doing business.
Disorganised Document Management
An effective financial close process normally consists of a centralised task and document management system. However, many enterprises still rely on spreadsheet checklists and online file storage systems, resulting in disorganisation and negative impacts on various stakeholders.
Accountants struggle to prioritise tasks, financial leaders lack visibility into the close progress, and auditors face challenges in validating financial figures due to a lack of supporting documentation.
Lack of Standardised Financial Close Process
The absence of standardised processes has wide-ranging consequences for finance and accounts (F&A) teams and the entire organisation. Without a solid and consistent system, teams may spend excessive time on manual and repetitive tasks.
This lack of standardisation can lead to missed deadlines, overtime work, and compromised data quality, resulting in inaccurate reporting. Identifying the root causes of these complexities is crucial for long-term success. By addressing these challenges and establishing a strong foundation, organisations can ensure scalability and leverage business intelligence effectively.
Enter BlackLine!
Traditional legacy systems may no longer suffice in today's digital era, where businesses need to adapt to changing customer needs and stay ahead of their competitors. As a result, it is crucial for businesses to embrace modern solutions that streamline the financial close process and ensure accuracy and efficiency.
This is where BlackLine comes into play. BlackLine is a leading cloud accounting software that empowers organisations, to automate account reconciliation and the financial close process. By implementing BlackLine, companies will see improvements in workflow efficiency, data accuracy, staff productivity, and auditing capabilities.
Benefits of BlackLine: Financial Close Management Made Easy, and Efficient
Reporting Accuracy and Increase in Efficiency
BlackLine helps organisations automate tedious, and repetitive processes, helping financial and accounting departments to focus on strategic tasks. The automation of processes such as journal entries, reconciliation, and controls help businesses save time and avoid errors. This will also ensure timely, accurate and complete reporting standards are met.
Increase Agility and Support Future Business Growth
Secure all important data, policies and procedures on the cloud and easily integrate with all the business entities. BlackLine also allows all data to be synchronised with ERPs and other data sources by providing secure connectors and APIs with limited complexity.
Optimise the Audit Process and Assist in ESG Efforts
Streamline audits by managing requests and deliverables from a centralised source of truth, improving transparency and reducing delays. Share information through unique auditor roles to minimise paper, storage, travel, and other unnecessary costs.
Eliminate Obstacles and Provide Timely Information
Centralise, track, and coordinate activities seamlessly through intelligent workflows, and transform fragmented data into valuable insights. Leverage role-based reporting, interactive dashboards, key performance indicators (KPIs), and proactive alerts to empower informed decision-making and drive business success.
Final Thoughts
In a world where customers' needs and businesses process changes at the speed of light, every organisation needs to keep up in order to stay ahead of their competitors. BlackLine allows business to focus on what matters most to them by streamlining complex accounting and finance processes for the organisation.
BlackLine improves analytics accuracy, optimises financial close management and supports future growth for the business. It also enables a better auditing process with a centralised source of truth and transparency, whilst also supporting ESG efforts. With all these, BlackLine will help businesses to grow more efficiently and stay ahead of the chasing pack.