Blog
Accounting Solutions: Point vs End-To-End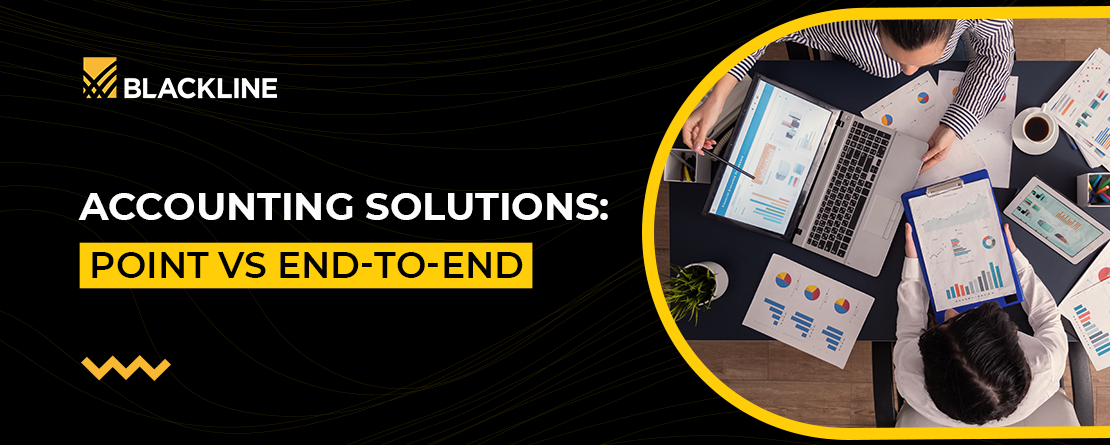 Livingeshan Krishnan
It could be argued that, for the longest time, the job of finance and accounting professionals has focused solely on their organisations' bookkeeping processes. The familiar image of a finance and accounting professional was that of a person sitting in front of a monitor, staring at spreadsheets and reconciling data from a stack of documents on their tables.
However, the advent of the digital age and the proliferation of software-as-a-service (SaaS) is slowly but surely ushering in a tectonic shift where finance professionals are relieved of the burden of the manual management of tedious accounting processes. This allows finance and accounting professionals to focus on tasks that can help grow their organisations.
With this new development, the chief finance officer (CFO) is prominently involved alongside the chief information officer (CIO) or chief technology officer (CTO) in the process of vetting new solutions for the accounting and finance department. This also gives CIOs and CTOs a fresh perspective on the sort of solutions that would work best for the organisation, especially the financial and accounting department.
The software-as-a-service (SaaS) market offers various finance and accounting solutions. However, this can also be overwhelming for companies as the abundance of solutions can make the decision to pick the right accounting solution tougher. In the end, accounting solutions can be classified into two categories, point solutions and end-to-end solutions.
Below, we will explore the differences between point and end-to-end solutions to help you decide which type of solution would be best for your organisation.
Point Solutions: Specific Issue-Focused Solution
Point solutions are implemented to solve a specific problem, or to be precise, an area in accounting and finance that needs to be digitised. Point solutions might include a specific tool that the F&A team requires to manage month-end close checklists or preparing journal entries. Point solutions are often limited in scope or ability to expand beyond the initial application.
End-to-End Solutions: 360-Degrees Problem Solving Platform
End-to-end solutions are recognised as a 'one-stop shop' platform that's ready to solve multiple problems through integrated processes that link every solution in the organisation together. This platform ensures that the workflow will be centralised, eliminating silos, which leads to more efficient working in the organisation. A cloud ERP system can also be considered an example of an integrated solution that helps the enterprise better manage the workflow.
However, cloud ERP solutions have limitations when it comes to the automation of financial reconciliation and transaction matching processes. Some ERPs require an accounting package which helps expand the work scope of the solution. This does not mean that all the information would sync since no accounting packages allow the user to have a 360-degrees view of the business.
This is also a reason why an accounting team needs a solution where all of the information is integrated and built specifically for them.
BlackLine, the Ultimate End-to-End Solution for Finance and Accounting
BlackLine is an industry-leading accounting solution that goes beyond the basic solutions offered by most accounting tools. BlackLine is an integrated accounting platform that addresses tasks that are crucial for your financial close such as the record-to-report process, including high-volume ticking and tying, journal entries, variance analysis, and the whole close checklist.
BlackLine acts as a 'platform solution' with the ability to act as a stand-alone solution, but can also be integrated easily with other solutions such as cloud ERPs, and many other basic accounting solutions.