Blog
How Workato Can Fuel Your ESG Efforts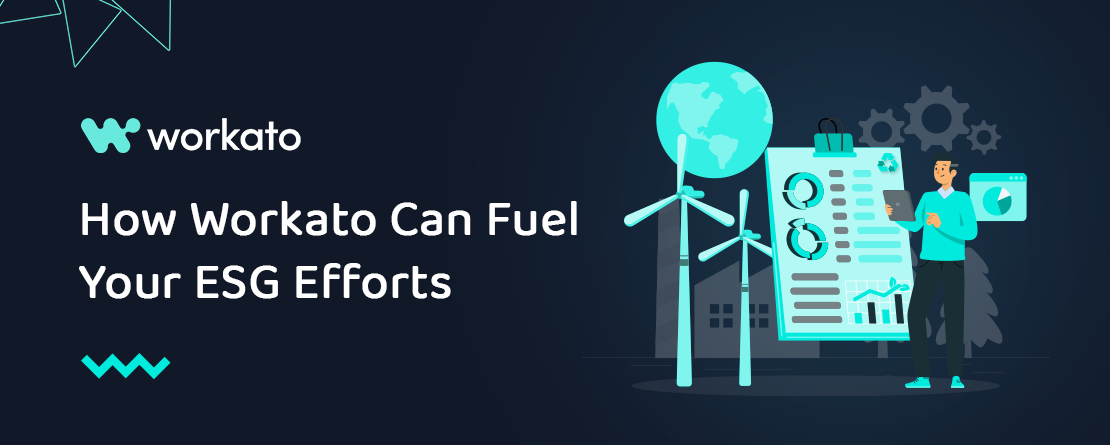 Livingeshan Krishnan
The incorporation of long-term, sustainable business models and practices has taken centre stage as realisation dawns on businesses of the pitfalls of pursuing infinite growth on a planet with finite resources. In addition to that, the lack of enforced governance had rendered almost pointless the existence of certain compliance requirements, as evidenced by successive financial crises.
In recent years, this led to the formation of the environmental, social and governance (ESG) framework, which requires businesses to adhere to a set of measurable requirements predicated on an enterprise's profitable operations without harm being done to the environment, society, and in compliance with corporate governance.
While a multi-pronged approach is needed to thrive in an ESG-adhering business environment, baby steps can be taken to set your business on the right path. One key area businesses can look at, as part of a component that can drive their ESG efforts centres around the integration of stack and the automation of workflows. Software-as-a-service (SaaS) ushered in a glut of best-of-breed solutions that businesses use to address different pain points. Research by Productive reveals that, on average, an enterprise has a whopping 364 different SaaS applications.
However, the lack of a unified view of business processes, and data silos, just to name a few, have become the unintended consequences of SaaS. Meanwhile, the manual management of tedious processes has resulted in human errors. These are hardly the ingredients to fuel a sustainable business in the high-growth era.
The arrival of integration-platform-as-a-service (IPaaS) service providers towards the late 2000s was timely as it plugged the gaps left by SaaS. The enterprise IT sector benefits greatly from the luxury of being able to choose from a variety of IPaaS providers to suit their business needs.
In recent years, however, one IPaaS provider has emerged head and shoulders above the rest of the chasing pack. Workato, through its no-code / lo-code (LCNC) model, has reimagined integration by making it possible for end-users with little technical expertise to initiate integration.
What propels Workato to be the leader in the IPaaS market is that its platform also allows users to initiate automation. With user actions, sometimes as simple as drag and drop, integration and automation can be put in motion. Users are given the liberty to initiate automation how they want it. This empowerment of end users democratises the workplace, makes businesses sustainable, positions organisations for sustainable growth, and  frees IT the burden of having to build custom integrations, instead allowing them to focus on ensuring security
Below we look at how Workato's integration and automation platform will come to play an increasingly pivotal role in facilitating an organisation's ESG efforts:
+ Streamlining ESG reporting
Workato can automate the collection of data from various sources, such as financial systems, customer relationship management (CRM) systems, and supply chain management systems, to generate reports that provide insights into a company's ESG performance. This can save time and resources while improving accuracy and consistency.
+ Tracking and managing ESG risks
Workato can monitor key risk indicators related to ESG, such as carbon emissions or social compliance violations, and trigger alerts or workflows to address any issues that arise. This can help companies proactively manage ESG risks and ensure they stay in compliance with relevant regulations and standards.
+ Integrating with ESG data warehousing platforms
Workato can integrate with ESG data warehousing platforms such as Big Query and Snowflake, to automatically pull in ESG data and ratings for companies and use this data to inform decision-making processes.
+ Automating sustainability initiatives
Workato can help automate sustainability initiatives, such as energy and water management, waste reduction, and sustainable sourcing. By automating these initiatives, companies can save time and resources while making progress towards their ESG goals.
+ Easy Tracking of Employee Wellbeing
Gauging employee well-being and getting a visualisation of it in the form of a graph involves painstaking manual effort toggling between spreadsheets and exporting data to a data warehousing platform. Then you would need to manually send the graph by email to stakeholders. By integrating your spreadsheet, data warehousing platform and email, you can set the rules for your data warehousing platform to automatically extract employee satisfaction data from spreadsheet, create the visuals and send it to recipients by email.
Use Case Example
Here we show how a process that would take multiple manual steps can be automated with a few drag-and-drop moves.
Before Workato
Before automation, HR executives retrieve and share employee satisfaction data in three manual steps using Google Sheets, Tableau, and GMail:
HR executives will access the Google Sheets containing periodical information on employee satisfaction and manually transfer the data to Tableau.
Once the data has been uploaded in Tableau, HR personnel will manually obtain a visual graph showing employee satisfaction.
Once the graph has been obtained, HR executives will save the chart and manually attach it to GMail before sending it to relevant stakeholders to allow people to gauge the success of the organisation's employee well-being initiatives.
After Workato
Below is an example of how manual processes are completely eliminated with a few steps initiating automation on Workato: with Workato, all three steps above are eliminated as HR employees can trigger automation rules according to their needs. This process of customising their automation through triggers and actions is called recipes.
Trigger
The trigger specifies a schedule and actions to be taken once your Google Sheets containing employee satisfaction data, Tableau and GMail have been integrated.
Actions
Actions determine the steps taken to automate the whole process of: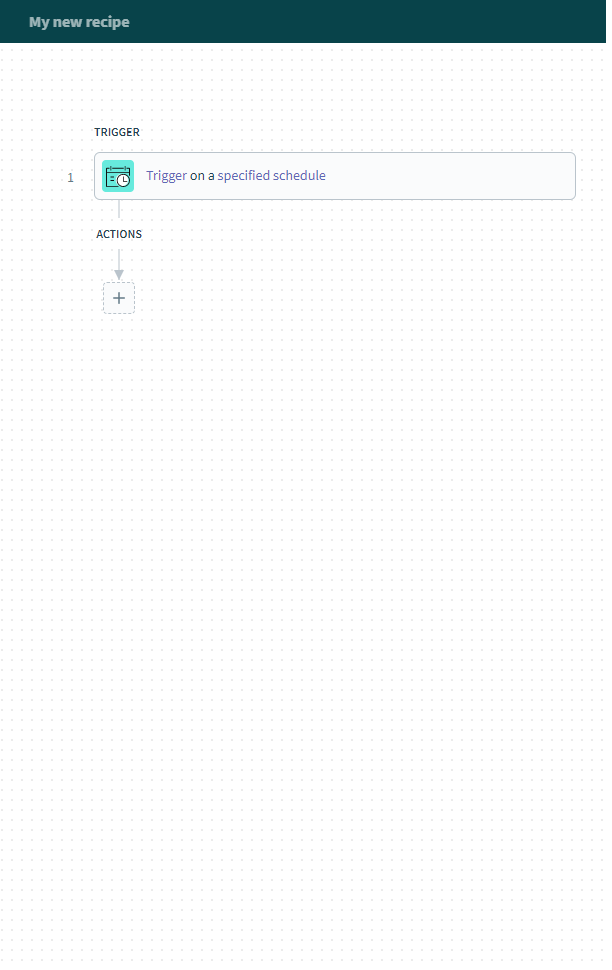 Setting a trigger to send emails on employee well-being based on a scheduled time.
Getting the Google Sheet containing employee satisfaction data based on responses that they have filled up on Google Forms and sending it to Tableau.
Getting Tableau to generate a visual graph or chart based on the Google Spreadsheet data. Send email with image from Tableau to relevant stakeholders.
For Michelle Alphonso, CEO of PointStar Consulting – a leading financial digital transformation consultancy in Asia – Workato represents a game-changer for businesses looking to eliminate repetitive tasks through automation.
Workato's easy-to-use interface and drag-and-drop functionality make it simple for anyone to create complex workflows without any coding knowledge. This democratises automation, making it accessible to everyone in your organisation, from the CEO to the front-line employees.
Michelle believes that Workato's AI-powered platform makes it possible to create intelligent workflows that can adapt and learn from your data.