Blog
The No. 1 Cloud ERP for Service-Centric Enterprises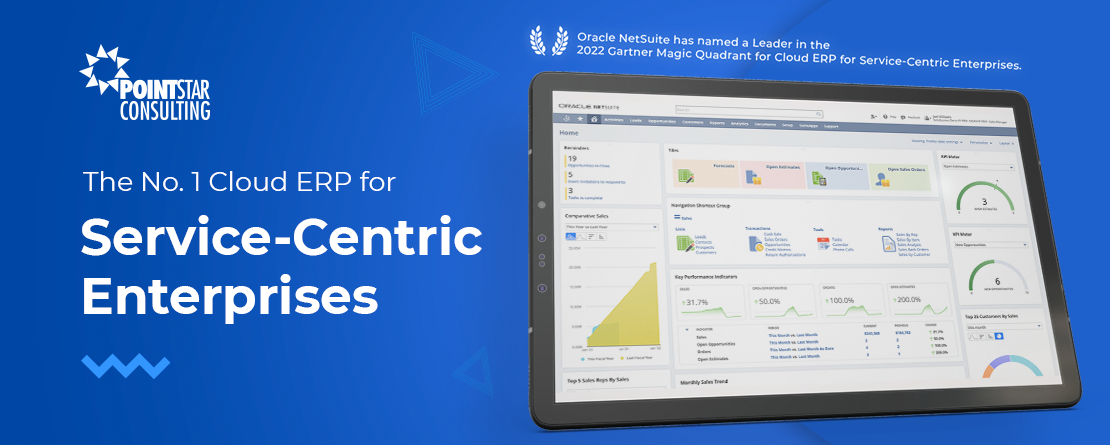 Pinploy Poonkham
In the ever-evolving landscape of cloud ERP (Enterprise Resource Planning) systems, Oracle NetSuite stands tall as a beacon of innovation and excellence.
It's not by chance that Oracle NetSuite has earned its stripes; in fact, it has been named a Leader in the 2022 Gartner Magic Quadrant for Cloud ERP for Service-Centric Enterprises, marking the fourth consecutive year of its leadership in this prestigious quadrant.
But what makes Oracle NetSuite a standout choice as the cloud ERP for service-centric enterprises? Let's delve into the reasons behind its leadership position.
Service-Centric Focus
Gartner categorises service-centric enterprises as those that offer services to customers, rather than tangible products. This wide-reaching definition includes industries like professional services, healthcare, and education.
Oracle NetSuite is specifically designed with these businesses in mind, tailoring its features to meet the unique needs of service-centric enterprises.
A Comprehensive Solution
Oracle NetSuite is more than just an ERP system; it's a comprehensive suite of tools and capabilities designed to empower service-centric organisations. Here are some of its key features:
Customer Relationship Management (CRM)
Oracle NetSuite helps you build and maintain strong relationships with your customers, a critical aspect of service-centric businesses.
Project Management
Efficiently manage projects from inception to completion, ensuring they stay on track and within budget.
Financial Management
Gain control over your finances with robust financial management tools, from accounting to budgeting.
Inventory Management
Keep track of your inventory in real-time, ensuring you have what you need when you need it.
Human Resources Management
Manage your workforce effectively, from recruitment to payroll, all in one platform.
E-commerce
Seamlessly integrate e-commerce operations with your overall business strategy.
Scalability and Ease of Use
One of the standout features of Oracle NetSuite is its scalability. Your business can grow, and Oracle NetSuite can grow with you. Plus, it's incredibly user-friendly, making implementation and daily use straightforward and efficient.
Benefits of Choosing Oracle NetSuite
So, what tangible benefits does Oracle NetSuite bring to service-centric enterprises?
Increased Efficiency
Oracle NetSuite automates many business processes, freeing up time and resources for strategic tasks.
Improved Visibility
With Oracle NetSuite, you get a unified view of your data, enabling data-driven decisions that can drive your business forward.
Enhanced Agility
Being cloud-based, Oracle NetSuite can be accessed from anywhere, at any time. This flexibility allows you to adapt quickly to market changes.
Cost Reduction
By eliminating the need for on-premises hardware and software, Oracle NetSuite can significantly reduce your IT costs.
Why Oracle NetSuite Leads the Pack
Several factors contribute to Oracle NetSuite's leadership in the cloud ERP for service-centric enterprises market:
Strong Product Offering
Oracle NetSuite offers a comprehensive suite of ERP functionality tailored to the unique needs of service-centric businesses, from CRM to project management.
Excellent Customer Satisfaction
High customer satisfaction ratings underscore Oracle NetSuite's commitment to providing top-notch customer service and support.
Continuous Innovation
Oracle NetSuite is constantly evolving, adding new features to ensure it remains the top choice for service-centric enterprises.
Scalability and Flexibility
Its cloud-based nature makes Oracle NetSuite highly scalable and adaptable to changing business needs.
The Future Looks Bright
The global cloud ERP market for service-centric enterprises is projected to reach US$130 billion by 2027, signifying tremendous growth opportunities. Key drivers include the demand for cloud solutions, real-time data insights, and the popularity of subscription-based models.
However, challenges such as integration with legacy systems, security concerns, and a shortage of skilled resources persist. Oracle NetSuite, with its extensive capabilities and ongoing innovation, stands as the best solution to navigate these challenges successfully.
In a Nutshell
If you're a service-centric enterprise looking to streamline your operations, boost efficiency, and enhance profitability, Oracle NetSuite is your answer. Its comprehensive features, excellent customer satisfaction, continuous innovation, and scalability make it the leading choice in the cloud ERP market.
The numbers don't lie, and the future is undoubtedly bright for businesses that choose Oracle NetSuite to lead them into the next era of ERP.