Blog
Why Fast-Growing Companies Choose BlackLine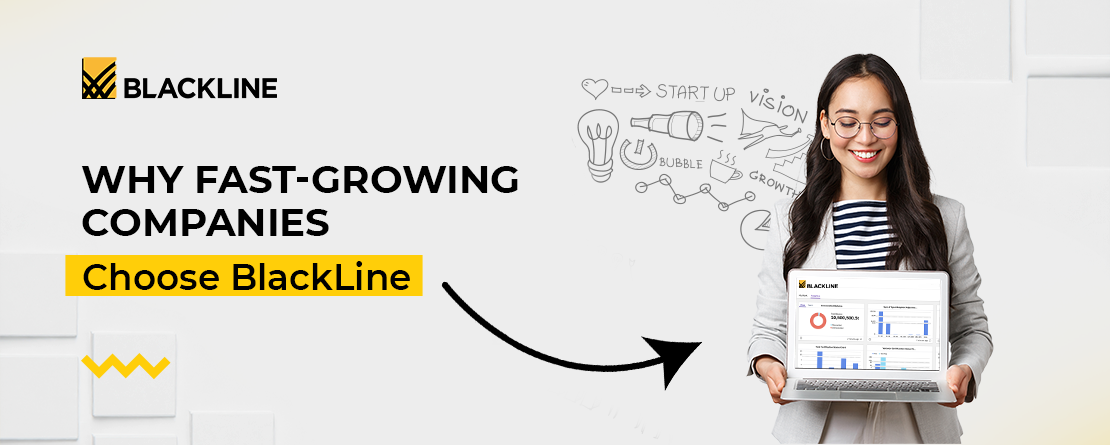 Donna Ambarita
Fast-growing companies face the challenge of meeting the rising expectations and demands of the market and consumers. Adapting and responding to rising expectations and increasing demands is crucial for maintaining the growth trajectory of a company.
One of the most prominent challenges for fast-growing companies is the traditional manual processes in finance and accounting that can be time-consuming, error-prone, and inefficient. These outdated methods not only consume valuable time and resources but also lead to costly mistakes.
The understanding of these challenges prompts growing companies to actively seek technology solutions aimed at streamlining their finance and accounting (F&A) operations.
The Ultimate F&A Solution for Fast-Growing Companies
Businesses on the high-growth trajectory require F&A solutions that enable them to meet their strategic goals by modernising their end-to-end accounting processes.
Outdated accounting solutions require manual work which are riddled with errors and inconsistencies, which can have a negative impact on financial reporting and decision-making.
By modernising accounting processes through an ultimate F&A solution, you can enhance accuracy and data integrity. It incorporates built-in checks and balances, automated calculations, and real-time data synchronisation, resulting in reliable and accurate financial information.
For these reasons, thousands of midsize companies and large enterprises trust BlackLine. While others may focus on simplification, BlackLine goes a step further by optimising the entire accounting workflow. It provides a holistic approach that encompasses various aspects, including financial close, accounts receivable, intercompany processes, and more. By optimising these processes, BlackLine significantly improves productivity, reduces errors, and enhances the overall efficiency of your finance and accounting operations.
Here are 3 reasons why fast-growing companies choose BlackLine:
Scalability: Add Modules Parallel to Your Business Growth
BlackLine offers a solution which is scalable according to the growth of your business. It allows companies to add additional entities, accounts, ERPs, currencies, and more without disruption. This flexibility ensures that companies can adapt their accounting processes to support their expanding operations, providing a strong foundation for continued growth.
These capabilities empower companies to navigate change, respond swiftly to market demands, and make informed decisions, enhancing their overall agility in the ever-evolving business landscape.
Optimising Financial Operations for Rapid ROI
BlackLine offers the best practices that lead to rapid return on investment (ROI) for companies. Unlike most enterprise resource planning (ERP) systems and other corporate software, BlackLine is specifically built for finance and accounting purposes. This specialised focus ensures that the solution is designed to address the unique challenges and requirements of the finance function.
According to Nucleus Research, BlackLine customers can experience a payback on their investment in as little as seven weeks. This means that companies can quickly recoup the cost of implementing BlackLine and begin generating positive returns. This accelerated payback period is attributed to the efficiency gains and productivity improvements achieved through the platform.
Through BlackLine's optimisation of financial operations, companies can achieve a rapid return on investment by improving efficiency, reducing errors, and leveraging resources more effectively. The platform's automation capabilities and streamlined processes empower organisations to maximise their financial performance, ultimately leading to increased profitability and sustainable growth.
Unmatched Expertise for a Transformative Journey
Many organisations settle for solutions that only provide partial automation or support outdated processes, missing out on the opportunity for true process optimisation. To achieve optimal results in finance and accounting, it is essential to have a solution specifically designed for these functions, coupled with the guidance of trusted advisors.
BlackLine offers an unparalleled community of customers, in-house financial and accounting experts, technology leaders, and strategic partners. This extensive network is dedicated to guiding your journey and ensuring your success. With their expertise and insights, they help you navigate the complexities of modern accounting, supporting you at every step.
BlackLine will provide you a range of resources and services that advance your progress. Whether it's educational materials, training programs, or dedicated support, which helps you to achieve your goals. With BlackLine, you're not alone in your finance and accounting transformation journey to optimise your finance and accounting processes.
Why Growing Businesses Choosing BlackLine
Choosing BlackLine as the finance and accounting solution for your company is a strategic decision that unlocks growth and drives success. With its comprehensive and scalable platform, BlackLine enables you to modernise your accounting processes, enhance accuracy and data integrity, and optimise financial operations for rapid ROI. Moreover, BlackLine's unmatched industry expertise and network of support ensure that you have the guidance and resources needed to navigate the complexities of modern accounting.
By choosing BlackLine, you are empowering your company to stay agile, make informed decisions, and achieve your strategic goals, ultimately driving sustainable growth and maximising profitability.