Blog
Investment in Cloud Technology and How to Make Them Work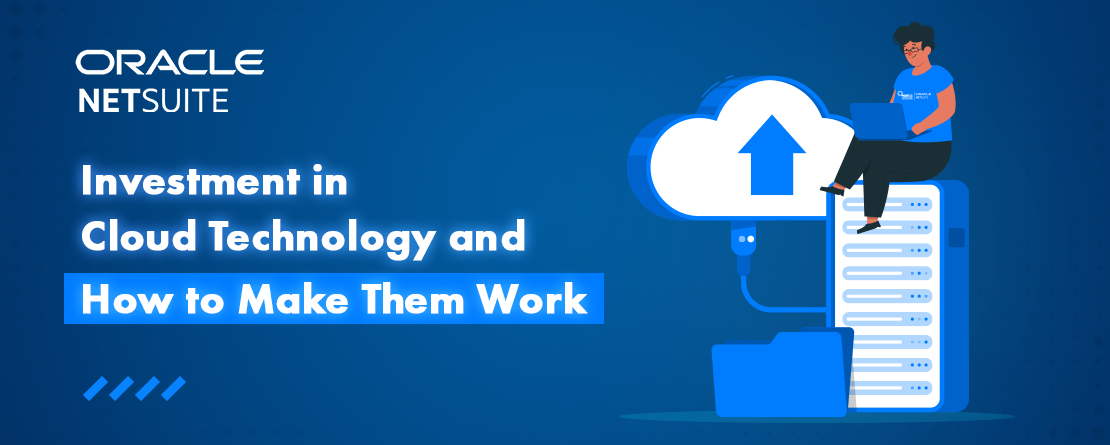 Livingeshan Krishnan
In an ever-evolving business environment, investment in cloud technology such as an enterprise resource planning (ERP) system help businesses automate their back office processes, and introduce operational efficiencies.
A report by Deloitte indicates that companies that have made investments in cloud technology have the potential to achieve 2.5 times the revenue growth of their competitors. In addition, according to a survey conducted by IDG, businesses that invest in cloud technology are more likely to experience improvements in business agility and scalability.
For most businesses, moving to the cloud represents their first digital transformation initiative.
Digital transformation can be an endeavour that requires investment in the form of substantial amount in cash, hence why it is important to get it right.
To reap the benefits of cloud investment, you must ensure it aligns with your business goals and maximises your return on investment (ROI). With the right approach, businesses can maximise the benefits of cloud-based systems and experience continuous expansion.
Approaches To Developing Strategies For Cloud Investments
An article by McKinsey emphasises the importance of aligning technology and business strategy in order to generate value and recommends prioritising initiatives according to their potential impact on business outcomes. Moreover, it emphasises the importance of investing in talent and capabilities to foster a robust digital culture and leveraging data and analytics to fuel insights and drive innovation.
In this light, it's important to think about how to get the most out of your company's cloud investments. This is how:
Define a Business-Aligned Cloud Vision and Strategy
To define a business-aligned cloud vision and strategy, you must comprehensively assess your existing IT infrastructure, evaluate business objectives, and determine how cloud technology can support your overall goals. By defining a clear and comprehensive cloud vision and strategy that is aligned with business objectives, businesses can optimise their IT infrastructure, increase operational efficiency, and foster innovation.
Invest in Employee Training and Support
Digital transformation frequently entails substantial changes to your organisation's operations, and it is crucial that your employees have the necessary skills and support to adapt to these changes. This may involve investing in training programmes, providing access to support resources, or fostering a culture of lifelong learning.
Businesses must invest in employee training and education to ensure teams have the skills and knowledge to use cloud technology effectively. This includes training employees on cloud tools and applications and educating them on best practices for cloud security and data management.
Choose the Right Cloud Services and Providers
Identifying the right cloud services to align the cloud investment with your business objectives is crucial. Consider dependability, scalability, security, and compliance when selecting a cloud service. You need to consider which services will be most beneficial to your company. The right provider can offer a platform that is tailored to the organisation's specific requirements and aids in the accomplishment of its objectives.
A poor user experience, increased costs, and operational inefficiencies may result from choosing the wrong cloud provider. To avoid these problems, evaluating and selecting a cloud provider that meets your specific requirements is essential. Ensure that your chosen provider is aligned with your business objectives and capable of delivering maximum benefits.
Develop a Cloud Migration Strategy
Cloud migration can be a complicated process that requires careful planning and execution. You want to create a comprehensive cloud migration strategy that outlines your goals, timelines, and budget. The strategy should include a plan for handling the changeover and guaranteeing continuous operations as data and applications are moved to the cloud.
Migrating to the cloud necessitates a well-defined strategy outlining the necessary steps and timelines. In addition to considering the impact of migration on business operations, your strategy should account for potential disruptions.
Measure the Success of Your Investment in Cloud Technology
To evaluate the success of your investment in cloud technology, you should establish metrics to track your progress. This could include metrics such as cost savings, efficiency gains, and security enhancements. By measuring the success of your investment regularly, you can make the appropriate changes to optimise your cloud services.
To make sure cloud operations are always evolving to meet the needs of the business and produce the expected results, they must be evaluated and optimised on a regular basis. This process assists in identifying areas for enhancement, such as resource utilisation, performance, security, and cost-effectiveness, and implementing the required changes. Continual evaluation and enhancement of cloud operations ensure that you achieve your goals efficiently and effectively–maximising value.
Staying agile and adaptable to technological changes
Investment in cloud technology is an ongoing process; as your business evolves, it is essential to maintain agility and adaptability.
Solutions such as cloud ERP systems provide businesses with agility to respond to changing consumer and market conditions, and scalability to add new features as and when required.
Taking a strategic approach to investment in cloud technology, prioritising security and scalability, and marketing the benefits effectively, businesses can make cloud investments profitable and achieve long-term success.
Why Choose PointStar Consulting
With over 15 years of experience in the implementation of various cloud solutions to some of the biggest businesses in the Asian region, PointStar Consulting is equipped with highly-skilled cloud technology consultants who can accurately assess your business requirements and prescribe the right solutions.
PointStar Consulting is also equipped with one of the largest teams of Oracle NetSuite consultant in the Asian region, and has won multiple awards for its excellent implementation of cloud ERP projects. What sets PointStar Consulting apart from its competitors is that it offers a comprehensive array of cloud solutions that can address your different pain points. These solutions can also be easily integrated with each other, providing your company with a holistic, long-term, agile, and scalable solution in line with your business growth.