Blog
IPaaS: Importance of Choosing Enterprise-Grade Solutions With Advanced Security Features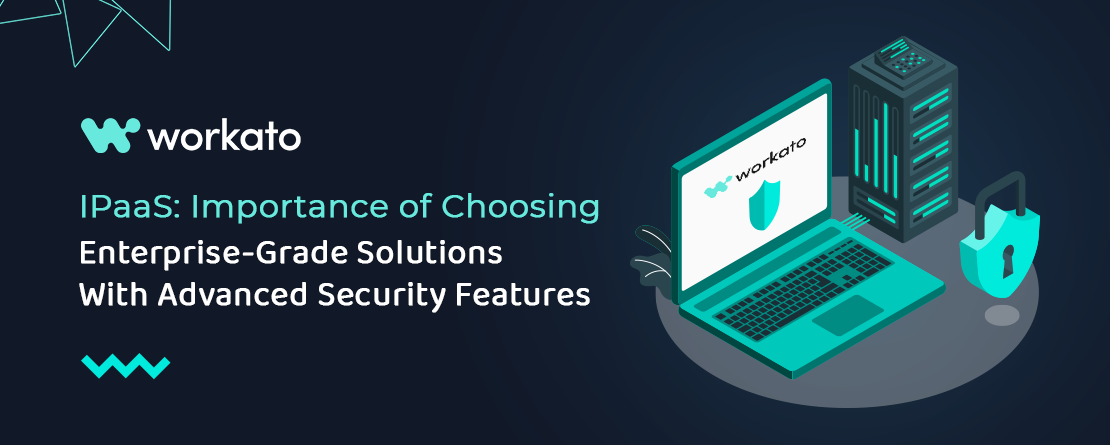 Livingeshan Krishnan
Plenty of integration-platform-as-a-service (iPaaS) providers exist in the crowded software market. Organisations often believe they have enterprise-grade solutions the moment they engage the services of an IPaaS provider.
However, not all iPaaS providers can be categorised as enterprise-grade solutions, as governance and security-related issues must be addressed when dealing with an enterprise business.
The lack of enterprise-grade solutions with governance and security capabilities in an iPaaS service can expose its users to high-security risks. This can result in threats such as employees accessing customers's and colleagues's personal information without consent.
Without granular user permissions, data can be used to modify or pause critical automation, which damages your business. Hence, companies should look for iPaaS providers that offer features that protect their client's sensitive data, keep applications and processes running, and complies with various security audits and data protection.
Below, we look at key features that separate the top iPaaS providers from the rest:
Strengthen your Security System with Role-based access control
At an advanced stage of automation, you will find yourself overseeing hundreds or even thousands of integrations and automation. To ensure that all systems are secure, you need an iPaaS solution that offers role-based access controls by following the principle of least privilege.
Role-based access control is highly secure and provides for granular access, which determines what privileges are to be granted to different users. For instance, users with the role of "Admin" would be able to perform various tasks which may be restricted for those who hold the role of "Operator", where they could only view certain things.
Customisable Enterprise Key Management
If your organisation has or plans to adopt a mature security practice for your business, or operates in industries with security conscious clients, like financial services or healthcare industry, then you will likely need an iPaaS provider that offers Enterprise Key Management (EKM).
With EKM, your organisation will be provided with encryption keys from your preferred service provider such as AWS Key Management Service. This will allow the user to have full control over a key's lifecycle.
However, a modern iPaaS provider like Workato also allows you to have full control over your encrypted connections and job data by using your own keys instead of the provider's.
Jayesh Shah, Workato's SVP of Global Operations and Security has explained in detail the reason why EKM is critical to the success of an organisation.
"Workato's EKM provides an extra layer of protection to our most security conscious customers. Whether you are working at a large organisation or in a highly regulated industry like healthcare financial services. Workato's EKM helps you meet your security requirements without losing out on any of the platform's features or performance" Jayesh Shah said.
Jayesh also ensured that "EKM is an additional component customers can add on top of Workato comprehensive security and governance capabilities. Trusted by some of the world's largest and most security conscious companies. Not every business needs EKM but if you do, you can implement it without losing any of the capabilities that makes Workato great building recipes, APIs, and more to power automations across your enterprise".
Across the Globe Access and Flexibility of Storing and Processing Data
Once your organisation expands, you need to consider the regulatory requirements for each country where your subsidiaries companies are located. Each country has different regulations and there are hardly days that go by without you hearing news on changes to regulatory requirements.
Most importantly, this regulation also includes the process of storing, processing and retaining data that's collected from a given country. With this information in mind, the organsation should consider adopting an iPaaS solution that has data centres located across the globe.
In addition, the iPaaS provider's data centers shouldn't differ in its performance. For instance, the iPaaS solution should be able to deploy updates to all of its data centres simultaneously. All but ensuring that the experience you're able to provide to prospective customers, employees, and partners are consistently kept to a high standard.