Blog
Mapping Your Journey: Which Integration Solution is Right for You?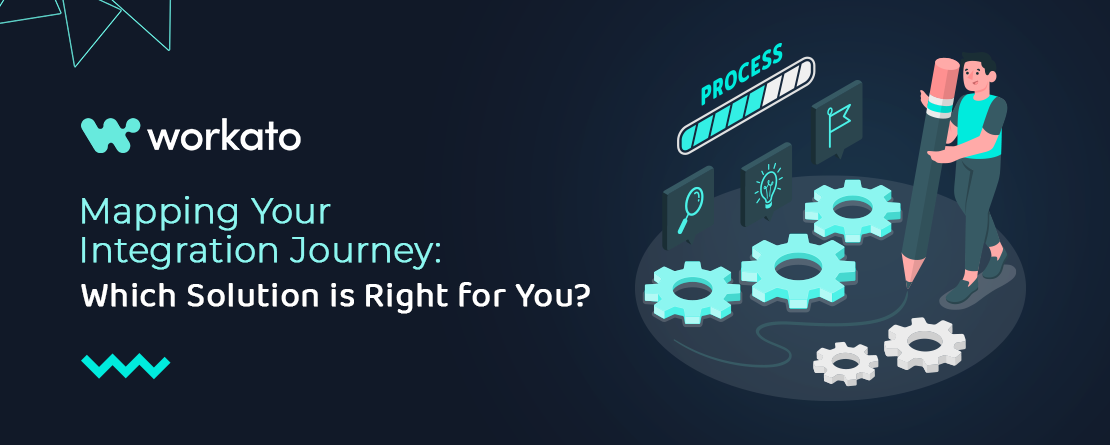 hanis
Integration solutions are critical for businesses to operate efficiently, but finding the right integration solutions for your business can be challenging. 
Businesses may require a more tailored solution to meet their specific needs. Building and maintaining integrations via custom code can provide the flexibility and control needed to meet those needs.
However, it is important to note that building and maintaining custom code integrations requires high levels of technical competency, is costly, and time consuming, especially as the number of systems and applications increases.
In many cases, choosing a third-party integration solution that offers pre-built integration solutions can be a more effective and efficient approach that provides both customisability and ease of implementation.
Despite that, it is important to carefully consider the specific needs of your business and select an integration solution that can meet your needs effectively.
What is an Integration Solution?
Let us begin the discussion with what an integration solution is.
Integration solutions are often used to connect disparate software applications, platforms, or data sources in order to exchange information, automate workflows, and improve business processes. These are usually called third-party solutions.
An integration solution may be delivered in the cloud, on-premises, or a combination of the two, depending on the vendor and the specific requirements of the company.
So, it is important to evaluate the vendor requirements and integration features when selecting an integration solution, while considering the company's specific needs, budget, and IT infrastructure.
Types of Integration Solutions
Here are a few categories of integration solutions that you can keep as a consideration:
Enterprise Service Bus (ESB)
An ESB is a type of architecture that specifies guidelines and standards for how apps may connect to middleware that operates on a "communication bus." An ESB is a type of integration tool that provides a centralised platform for building, monitoring, and troubleshooting integrations, making it easier to integrate and manage complex systems.
While an ESB integration solution can be effective in some scenarios, it also has some drawbacks that companies should consider. One of them is a single point of failure. Because ESBs are a centralised solution, if the ESB goes down, it can bring down all the systems and services that are dependent on it.
Native Integration
Native integration refers to an integration that is built specifically for an application. This eliminates the need for middleware or integration tools. Native integration provides a number of benefits, including more reliable data transfer, reduced complexity, and lower cost.
However, this integration can be challenging when there is a need to keep up with the pace of technological change and advancements.
Integration Solution as a Service (iSaaS)
Integration Software as a Service (iSaaS) providers offer cloud-based integration services that enable companies to connect and integrate different applications, data sources, and services without having to manage the underlying infrastructure or software. These solutions provide near real-time communication between upstream and downstream applications.
One of the cons of iSaaS that you might be considering is the governance and security features. Companies have lots of sensitive and confidential information that must be protected from unauthorised access and misuse. However, the majority of iSaaS solutions don't offer the full suite of controls necessary to protect your data over time.
Integration Platform as a Service (iPaaS)
Integration Platform as a Service (iPaaS) is a cloud-based platform that enables companies to connect, integrate, and manage multiple cloud-based, on-premise applications, and data sources. This is a solution that provides robust security measures to ensure the confidential information remains secure during the integration and exchange of data processes.
One of the drawbacks of iPaaS is that it requires at least a moderate level of technical expertise. In the case of building integrations in an enterprise, the technical expertise required could be higher. This means the initiation integration often rests solely in the hands of the IT department.
How Workato Accentuates the Benefits of IPaaS and Addresses Its Weaknesses
Workato is an iPaaS solution provider that enables businesses to integrate their stack and automate their workflow with little to no coding knowledge. The low-code / no-code (LCNC) model upon which Workato is predicated on democratises the workplace as end users can initiate integrations and specify workflow automation to suit their needs.
As an industry-leading iPaaS provider, Workato also strictly adheres to security and privacy standards such as SOC 2, HIPAA, and GDPR. Workato is equipped with role-based access, enabling administrators to determine who gets access to what.