Blog
Navigating Supply Chain Challenges by Leveraging Cloud Technology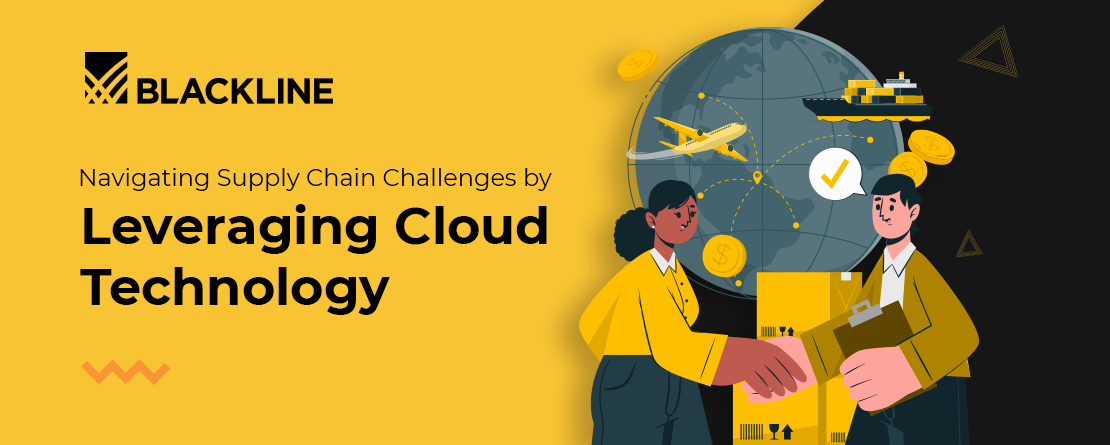 fida
For businesses, keeping all operations, especially in supply chain, in-house was once considered a prudent financial strategy, ensuring full control over orders, financial transactions, and deals. However, in recent years, businesses have faced a seismic shift in their approach to managing supply chains. 
The global supply chain disruptions triggered by the pandemic compelled companies to explore external solutions, such as partnering with third-party logistics providers. While this external approach offered agility, it also introduced new risks.
The Complexity of Intercompany Trade
Today, Chief Financial Officers (CFOs) are under immense pressure to deliver results swiftly while minimising risk. Many are now turning their focus inward, looking to intercompany trade as a means to optimise supply chains. Yet, this shift has unveiled a host of challenges. Issues like inconsistent data processes and outdated technologies hinder internal efficiency. The systems that once sufficed for supply chain management now struggle to keep up with the speed and complexity demanded by modern supply chains, given the sheer volume of daily transactions.
While intercompany transactions hold the promise of control and cost savings, the reality is that several hurdles must be overcome to realise these benefits. This is where new process-enhancing technology plays a pivotal role, boosting the effectiveness of intercompany solutions and offering relief to CFOs navigating the complexities of modern supply chains.
The Scale of the Challenge
Approximately 70% of global business operations flow through large multinational corporations, resulting in hundreds of thousands of daily transactions. This surge in transaction volume exposes organisations to increased risks. Consider the journey of goods through a multinational supply chain, from the initial purchase order to the final sale.
This intricate process involves numerous transactional touchpoints, calculations, and processing requirements. Companies must navigate country-specific tax regulations and statutory requirements while addressing complexities like transfer pricing, indirect taxes, and fluctuating exchange rates. Challenges escalate when managing high volumes of entries for fulfilment, partial orders, deliveries, discounts, and re-bills.
Cross-border transactions face added hurdles in multi-ERP environments, passing through various accounting systems among intercompany entities. The lack of standardised processes and policies across these global transactional touchpoints amplifies inefficiencies, leading to delays and inaccuracies affecting finance, operations, tax, treasury, and other crucial aspects of the process.
The Importance of End-to-End Visibility & Intercompany Solutions
BlackLine is an industry-leading cloud accounting solution which provides end-to-end automation of finance and accounting processes and cope with the increasing scale of intercompany transactions.
BlackLine's intercompany solution helps clients achieve a faster, more accurate financial close, establish improved governance to manage international and country-specific regulatory compliance, and gain crucial visibility over every aspect and entity of their businesses.
This tailored approach for multinationals offers:
Error Prevention
Identification and elimination of errors across thousands of transactions, preventing tax and regulatory errors from the outset.
Enhanced Visibility
Utilisation of leading-class controls, data analytics, and dashboard reporting for a comprehensive intercompany overview.
Centralised Data Platform
Creation of a single data source and a global subledger, ensuring accurate, comprehensive reporting, regardless of the ERP system in use.
Streamlined Operations
Improved intercompany operations to drive tax compliance and margin enhancement.
Reduction of Manual Tasks
Decreased reliance on manual, error-prone tasks, allowing personnel to focus on more intuitive or high-priority activities.
Investing in the Future: A Turning Point for Supply Chains
CFOs have many financial priorities, and the complexities of global business, operations, regulations, and taxes to deal with. It makes managing intercompany finances an urgent concern for multinational companies. As supply chain operations embrace digitalisation and cloud-based solutions for increased efficiency and agility, it is crucial to ensure that the transactions within an organisation are as efficient, compliant, and risk-free as external partnerships and transactions.