Blog
Automating Finance and Accounting Processes with BlackLine, From The Customers' Perspective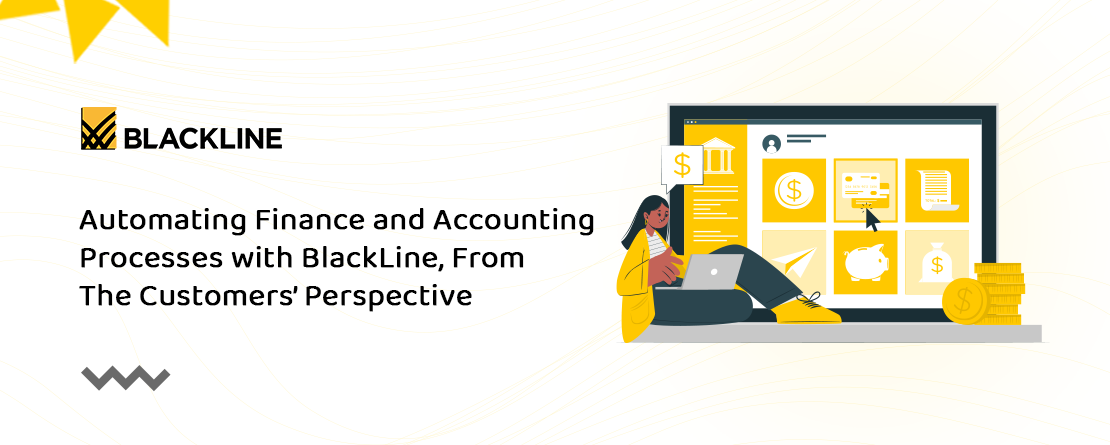 Livingeshan Krishnan
For most businesses, digital transformation initiatives focus on automating finance and accounting processes. As automation kicks in and eliminates tedious processes that are managed manually, finance and accounting (F&A) professionals will avail themselves of precious time that can be used to focus on strategic planning and other interesting parts of the job.
Amidst the sprawl of accounting software in the software-as-a-solution (SaaS) era, it can sometimes be difficult to zero in on accounting solutions that can truly match your rapidly growing organisation's needs. One cloud accounting solution that stands head and shoulders ahead of its peers is BlackLine.
BlackLine is one of the few cloud accounting solutions that provide end-to-end automation for financial close processes. It automates tasks such as account reconciliations, journal entries, and variance analysis, allowing users to save time and focus on more value-added tasks.
Robust integration capability is another one of BlackLine's strengths as it integrates with a wide range of enterprise resource planning (ERP) and financial systems, including SAP, Oracle NetSuite, and Microsoft Dynamics. This means users can easily import data from these systems into BlackLine, eliminating the need for manual data entry.
By virtue of its cloud architecture, BlackLine can be accessed by users anywhere in the world, at any time, and on any device, provided they have an internet connection. It can handle high volumes of transactions and users, making it ideal for fast-growing companies or those with complex accounting needs. Its cloud architecture also provides businesses with scalability meaning it can accommodate businesses of any size.
To add icing on the cake, BlackLine is also renowned for offering exceptional customer support, with a dedicated team of experts who are available to help customers with any issues or questions they may have.
In this article, we look at four companies that have shared their success stories with BlackLine after implementing the latter's suite of cloud accounting and financial automation products to the former's organisations.
CSL – A Leading Global Biotechnology Company
The lack of streamlined processes due to having to manage finance through separate ERP systems was emerging as a key pain point for CSL. Having identified reconciliation as a component that would benefit from improvement in the form of standardisation and compliance, CSL professionals researched and found BlackLine as a leading tool.
CSL singles out BlackLine's SaaS model and its easy integration capabilities with different ERPs as one of the crucial components of its decision when choosing BlackLine.
"We were happy BlackLine was a Software-as-a-Service (SaaS) solution because that meant it could connect with different ERP systems. With offices and entities all over the world and each location doing things their own way, it was important to bring standardisation across the board," CSL's director of finance innovation Mangesh Panshikar tells BlackLine.
BlackLine's intercompany financial management product offers extensive features that facilitate the management of numerous entities in compliance with regulatory demands in different countries. Following its implementation, BlackLine has helped shore up CSL's shared services model and helped strengthen the integrity and compliance aspects of its business. The logical next step would see CSL getting its intercompany accounts reconciled and certified.
"A key goal is to optimise month-end processes through automation. This reduces the time needed for reconciliations and lets employees focus on analytics. With automation and efficiency comes compliance but also, just as importantly, employee satisfaction. Freeing up employees from spending time on mundane, manual activities is a big value-add, which CSL is keen to do, and BlackLine is a key driver in that," adds Mangesh Panshikar.
Pepper Global—Financial Services Company
For Pepper Global, there was an increasing need for a solution with agility that would enable to smooth movement of accounts to specific stakeholders within the tool. A tool with the ability to enrich the reconciliation process by contextualising data to provide more information to financial accountants was imperative. A centralised location where users can see what task each person is working on was also something that Pepper Global needed.
"Originally, we standardised within BlackLine based on how we were doing reconciliations at that point. By regrouping the chart of accounts again, and aligning processes to those groupings, we could take advantage of automation around certification and rules within BlackLine to trigger based on criteria within the accounting platform. We were able to automate a great deal of this process with minimal touch in terms of the administration of accounts. That frees up a lot of time for the accountants," Paul Minogue, finance systems manager at Pepper Global, tells BlackLine.
Since implementing BlackLine, the complexity of managing subsidiaries has been somewhat lessened as Pepper Global is now able to carry out reconciliations in multiple currencies while being afforded the privilege of setting currencies for groups based on predefined logic. This was something that Pepper Global really needed as "it sees 60 to 70 new account relationships monthly due to its unique relationship with subsidiaries".
ActewAGL—Australian Utilities Company
A commitment towards empowering teams to go beyond functional tasks and elevating their responsibility to handle strategic tasks led ActewAGL towards looking for a system that would deliver transparency and visibility at more than just the management level but also across different roles.
"For me, going through the ranks as an accountant, I didn't want to be bogged down going through historical processes and spending my time in spreadsheets. No one does. We gained strong executive buy-in for BlackLine by demonstrating how it would enhance our control and transparency around the numbers and also deliver higher staff engagement by avoiding excessive use of spreadsheets and slow processes," Veronica Shehata manager of financial reporting and compliance at ActewAGL tells BlackLIne.
With a few finance teams operating across ActewAGL, they needed a solution that would act as a single source of truth, and deliver consolidated data, allowing users to get a glance at the statuses of reconciliations that are taking place. BlackLine has also helped ActewAGL to streamline its audit process and also assist it with cash forecasting.
The cash forecasting that is done through BlackLine's matching tool is a crucial area for a business like ActewAGL as it has helped them with cashflow management through an insightful budget and planning process.
Treasury Wine Estates—Premium Wine Company
For Treasury Wines Estates, the quest to give precious time to its F&A professionals led it to the path towards the implementation of BlackLine. Having initially started with BlackLine's accounts reconciliation module, Treasury Wine was impressed with BlackLine's product, so much so that it quickly added the journal entry module and reaped the benefits.
"Our journal entry process was clunky and manual. There was only one clear tool that could help, and that was BlackLine Journals. We automated as many steps along the way as possible, which has given time back to the finance teams to focus on value-adding activities," says Amber Lydiate, global IT director of sales marketing and corporate at Treasury Wine Estates.
The concerns of Treasury Wines' staff over whether BlackLine would work smoothly with the JD Edwards ERP system that they were using were quickly allayed by the smooth integration. This serves as a ringing endorsement of BlackLine's robust application programming interface (API) capabilities. "We haven't had any ERP-related trouble with BlackLine. Our experience has shown that it's definitely ERP-agnostic," adds Lydiate.
**The success stories above are based on customers' accounts to BlackLine of their experience in using the latter's accounting solution. We have rewritten, and edited for concision while retaining the original accounts of BlackLine's customers. You can find the original source material here.