Blog
Automation: What's Happening, The Benefits & Who To Choose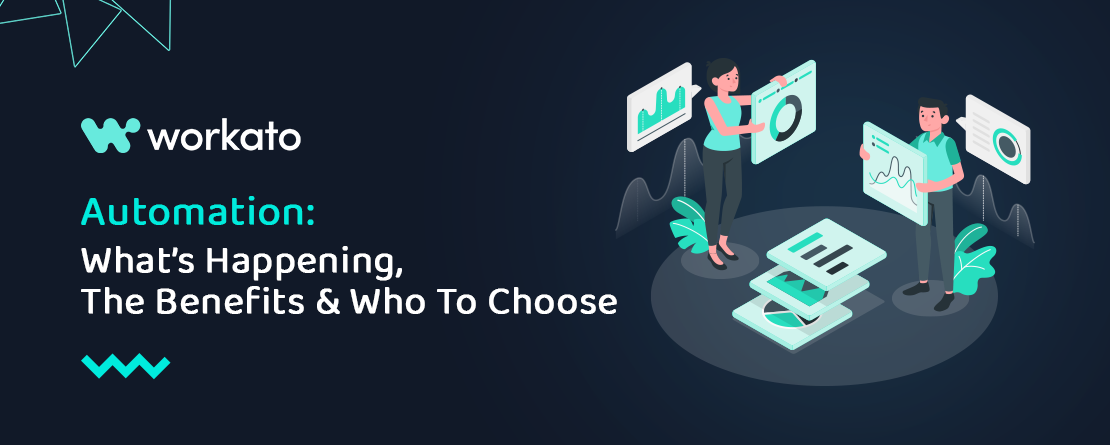 Livingeshan Krishnan
The rapid pace of technological advancement has made what was unimaginable 10 years back seem like a distinct possibility today. The use of terms such as artificial intelligence (AI) and automation are so widespread these days that they almost seem to be a part of pop culture.
Yet for all the advancement in technology, the adoption of automation among businesses worldwide can be said to be still in its infancy. A McKinsey & Company Global report revealed that the majority of organisations surveyed have automated 25% of their daily business processes, while 20% say automation is being expanded to various parts of their operations.
If anything, Covid-19, and the post-pandemic world have accelerated the adoption of automation. Forty-six percent of respondents in the same McKinsey survey say that Covid-19 was the primary driver that accelerated their adoption of automation. Meanwhile, 60% of organisations say they are at least piloting automation.
However, there should be no doubt about the benefits that automation can bring to businesses. It is estimated that automation alone can help grow global productivity by 1.4% annually, a staggering amount when the context of the worldwide working population is taken into consideration.
Companies that automate list the efficacy of business process management and improving customer and employee experience as prime motivators. A majority of businesses that have automated also notice improvements in the quality control process and reduction in operational expenses, with the latter being cited as the motivating factor in their decision to automate.
Those whose automation initiatives succeed often say they put increasing customer and employee satisfaction at the heart of their digital transformation. An endeavour in the magnitude of automation is one that is best implemented in scale rather than in incremental steps.
There is no shortage of automation tools in a crowded software-as-a-service (SaaS) market. Trying to identify what suits your business needs can be akin to spotting a needle in a haystack. However, in recent years, one integration-platform-as-a-service (iPaaS) provider has emerged head and shoulders ahead of the chasing pack when it comes to the enterprise automation market.
Named leaders for five consecutive years in Gartner's Magic Quadrant for IPaaS providers, Workato has blazed the trail in the workflow automation sector. Workato's dual capability of enabling you to integrate stacks, and automate workflow uniquely positions it ahead of its peers. Predicated on a low-code / no-code (LCNC) model – which means no technical knowledge is required to use it – Workato empowers staff to initiate integration and automation the way they want it.
Below we look at some of the benefits that Workato offers for businesses:
Application Integration
Workato allows businesses to connect and integrate a wide range of applications, including CRM systems, marketing automation tools, helpdesk software, finance and accounting systems, HR platforms, and more. It supports popular applications like Salesforce, ServiceNow, Slack, Marketo, and Zendesk, among others.
Workflow Automation
With Workato, users can create automated workflows to streamline business processes. These workflows can involve multiple applications and systems, enabling seamless data transfer, synchronization, and actions across platforms. Workato's visual workflow builder makes it easy to define triggers, conditions, actions, and transformations.
Bots and AI Capabilities
Workato incorporates intelligent automation capabilities, including the ability to build chatbots and leverage artificial intelligence (AI) services. Users can create conversational interfaces for internal or external stakeholders and utilize AI-powered features for tasks like data extraction, sentiment analysis, and predictive analytics.
Data Synchronization and Transformation
Workato allows businesses to synchronize data across different applications, ensuring that information is up to date and consistent. It also provides powerful data transformation capabilities, enabling users to manipulate and enrich data as it flows between systems.
Real-Time Triggers and Notifications
Workato supports real-time triggers and notifications, allowing users to respond quickly to events or changes within their applications. For example, it can trigger actions based on new leads in a CRM system, incoming support tickets, social media mentions, or specific data updates.
Governance and Compliance
Workato provides features to ensure governance and compliance with security and data protection regulations. It offers role-based access controls, data encryption, audit logs, and compliance with industry standards like GDPR and HIPAA.
Pre-built Connectors and Templates
Workato offers a library of pre-built connectors and templates for popular applications and use cases. These resources can accelerate the in